NAILED!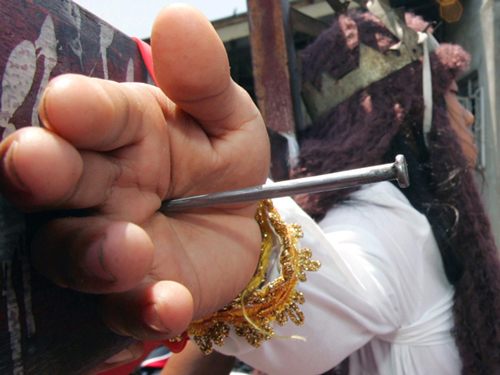 Back Up In Yo Azz With The Resurrection
Good Friday is now scarier than Halloween.
During high school, I played piano for my local Catholic Church's choir. I spent much of the time staring at the bloody, crucified Jesus on the wall, pondering how strange it was that such a gory sight has served as the source of inspiration and divinity for centuries. Eventually, I became accustomed to the image and absorbed the concept.
What I don't get, however, are
actual
reenactments of the crucifixion.
With
real nails
. And real whipping.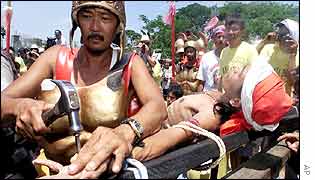 The above pictures are from today in the Philippines. The photo below is from Argentina.
Here
is video, to boot.
The above image is so frightening to me that it makes torture porn look like the Hallmark channel.
If I happened to be walking through a park at night and, by chance, saw people being hung on crosses, I don't know what I would do. I would probably call the police while screaming hysterically about the rapture and soiling myself several times over.
Regardless, I'm impressed with the devotion and grateful for the reminder that I'm due for a tetanus shot.
In terms of Easter weekend activities, my local pastel egg hunt is looking pretty weak next to other people's town whippings and community crucifixions.
Labels: Christianity, Easter, Obligatory Geto Boys references
--Junichi