LUDACRIS & KANYE GOTTA TESTIFY, COME UP IN THE SPOT LOOKIN EXTRA FLY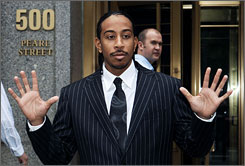 When Ludacris moves through court security, you move. Just like that.
I wish I was still in New York to witness the copyright infringement trial currently underway against Kanye West and Ludacris in federal district court.
If you subscribe to hip hop jurisprudential mailing lists, you know that a New Jersey group known as I.O.F. (which stands for It's Only Family) is suing 'Ye and Luda for the repeated use of the phrase "just like that" from Ludacris's hit song, "Stand Up," which Kanye produced. I.O.F. claims that the song's oft-repeated phrase "like that" was stolen from a song of theirs titled "Straight Like That."
The suit essentially boils down to whether an artist can claim copyright protection over the phrase "like that."
While I haven't read the complaint, my basic understanding of the law, hip hop, and I.O.F.'s claims leads to me conclude that their lawsuit is I.O.F. -- insanely, outrageously frivolous.
If I.O.F. prevails, any person could make a killing by just recording songs that feature the latest slang terms or phrases and send demos to other artists. Had I spent time on the streets of Vallejo and beat E-40 to the studio to record tracks titled "Ghostride the Whip" and "Watch 'Em Swang," I'd be a rich man now.
According to
this article
, U.S. District Judge Kevin Castel instructed Kanye to take the stand and perform the profanity-laced first two lines of "Stand Up" for the jury. Afterwards, Judge Castel responded, "I'm sorry I asked ... I think I'm going to withdraw my question," and the jury laughed.
The potential for a circus has yet to be fully realized. Imagine the ludicrousness (no pun intended) of this trial further exacerbated by expert witnesses scrutinizing lines like "Put Louis Vuitton bras all over your breasts /Got me wanting to put hickies all over ya chest."
If I were representing I.O.F., I'd just bill my punk clients by the hour and waste time cross-examining Ludacris with credibility-challenging questions like:
"Isn't it true, Mr. Bridges, that your medallion, even when laced with reckless diamonds, never weighs so much as to feel like a midget hanging from your necklace?"
If I were the bailiff and had to announce the entrance of the judge into the courtroom, instead of shouting, "All rise!", I'd just yell, "Stand up!"
If I were Ludacris, I'd be tempted to pass the plaintiff a note quoting Biggie:
"Your daughter's tied up in a Brooklyn basement. Face it: not guilty. That's how I stay filthy richer than richie."
Finally, let's hope nobody spits a legal verdict in rhyme
like the judge in the Eminem libel trial did
.
---
(Oliver pops in here: what's funny is that I got a call from my man A.M. the other morning...he's friends with one of the people called into, I presume, to be an "expert witness" for the defense and so we spent about 15 minutes on the phone brainstorming different songs that use a call-and-response format similar to "Stand Up." The Digable Planets was probably the most obvious but seriously, what hip-hop song has NOT used an antiphonal passage employing the phrase "like that"? This said, I'd like to hear the original I.O.F. song in question. --Oliver)
--Junichi