FLASHING FORWARD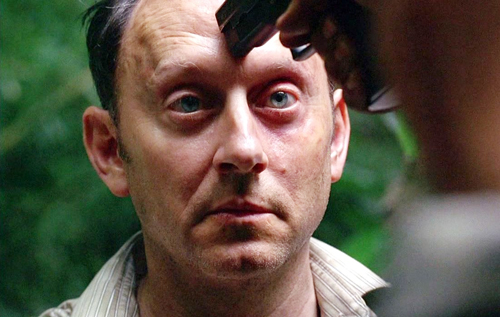 Gunfight at the Orchid Corral
If you're blending island drinks and tagging Dharma labels on your beer bottles in preparation for a viewing party tonight, you obviously know that the finale of
Lost
's spectacular fourth season is hours away.
Tonight's episode promises to be especially momentous because of the likely surprises in store. I'm betting it was no coincidence that the flashback from Nikki and Paolo's episode (from Season 3) mentioned how Nikki's television show was going to reveal a major villain at the end of her show's fourth season. And my money is on Juliet as the major villain.
This season's time-shifting narratives have resulted in a creative apex not only for the show, but for dramatic series television. The writers' flash forwards effectively put a major smackdown on all those who said, "They have no idea where this show is going."
While each season has introduced increasingly outrageous facts (e.g., the island can be moved?), I nonetheless spend several minutes a day asking myself questions like: Are Ben and Locke brothers? Did Jack really have his appendix removed or did Juliet plant something inside him? Is Ben unable to die? Did Hurley help Sun take control of her dad's company? Is Bernard the character who ends up being some evil mastermind? Are proper burials a key to understanding why dead people reappear? Could I learn another language as quickly as Jin?
Too bad I can't watch tonight's episode now and then immediately flash forward to 2009. I fear it's going to be a very painful stretch of time between 11 pm tonight and the beginning of Season 5.
In the meantime, here are some excellent
Lost
-related diversions to distract us until tonight's finale:
A fan's helpful montage of this season's "flash forwards" in chronological order:



Jack learns that Michael Johns gets voted off

American Idol

:


Labels: Lost
--Junichi