WIN, LOSE, OR TIE - RADIERS TILL I DIE
Future death row inmates?
San Jose, CA native Robert Charles Comer just became the first inmate
executed
by the state of Arizona since 2000.
When asked if he had any last words, he said:
"Go Raiders!"

The crazy thing is that Comer isn't the only capital punishee to give a shout out to the Raiders in his last words.
In 2000, before becoming one of the over 150 people executed by Governor George Bush, John Albert Burks's
final statement
included the sentence:
"The Raiders are going all the way y'all."

Ever since I attended a Raiders game and felt like I was attending an eyepatch-themed kumite in Thunderdome, I have believed that the Raiders have the most die-hard fans.
Now, I know it's true. Literally.

*

In other Raiders news, I once attended an anti-war rally in the bay area and heard somebody yell the phrase, "I said, Raider Nation, not Raid Other Nations!"
I thought that line was brilliant and always wanted that sentiment on a shirt.
So I made one.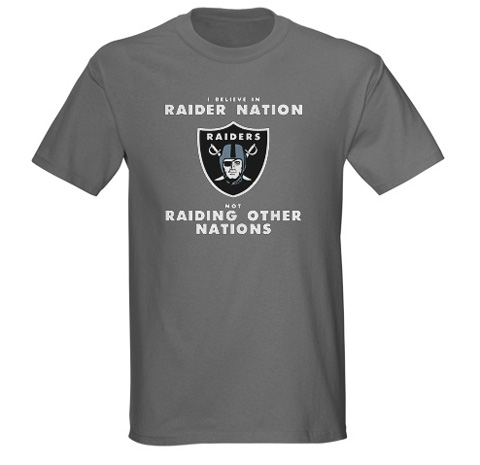 You can buy it
here
.
Update
:
Oh, snap! CafePress has taken down the products. Apparently, it's now time for me to argue that this use of the Raiders' trademark falls under the political parody/fair use exception. Stay tuned.
Labels: Raiders
--Junichi