HOW TO TURN FAKE BOAR TUSKS AND A STUPID PRACTICAL JOKE INTO A MILLION DOLLARS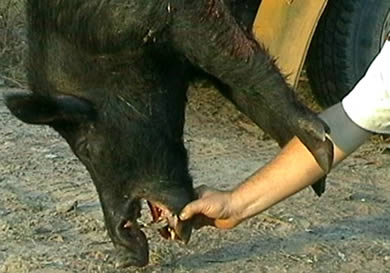 Where one oral surgeon gets his dental implants
This is a wild story about a prankster dentist who goofed on his pot-bellied pig-loving dental assistant and the eight years of litigation that followed.
Dr. Robert Woo, an oral surgeon in Olympia, Washington, agreed to replace two of his assistant's teeth with implants. However, while his assistant was sedated, Woo put fake boar tusks in her mouth, as a practical joke, before finishing the procedure. He took the tusks out before she woke up from the anesthesia.
The assistant, Tina Alberts, didn't know what happened. But photos of her with the boar tusks lodged in her mouth eventually made their way around the office. When she saw the photos, she flipped out, quit, and sued Woo up his wazoo.
(Note to self:
Sue Woo up his wazoo
would make a great tongue-twister.)
So who ultimately profited as a result of this practical joke gone bad? And who lost money?
The candidates:
A. Tina Alberts, the dental assistant
B. Dr. Woo, the practical joker
C. The patients of other dentists
The correct answer is after the jump ...
CLICK HERE TO CONTINUE READING...


Winners:

A and B.

Losers:

C.



Dr. Woo's insurance company, the Fireman's Fund, refused to defend the claim, so Woo settled with Alberts for $250,000. Woo then turned around and sued the insurer. A jury sided with Woo, ordering the insurer to pay $750,000 + the $250,000 settlement. The state court of appeals reversed. Finally, just yesterday, the Washington Supreme Court reinstated the jury award and also granted attorney's fees.

To recap, as a result of this prank in which no physical injuries resulted, Tina Alberts won $250,000.

Dr. Woo won $750,000.

And all the other dentists will soon pay more in premiums, which will eventually be passed on to all their patients.

Think this was a miscarriage of justice? If you read the opinion, the law was clearly

not

on the insurance company's side.

That said, it was hard to disagree with Justice Johnson's dissent, in which he stated that the "majority decision rewards Dr. Woo's obnoxious behavior and allows him to profit handsomely, receiving a total of $750,000, triple the damages paid to the real victim of his intentional offensive and likely tortious conduct."



Labels: law
--Junichi