BEST SONGS OF 2006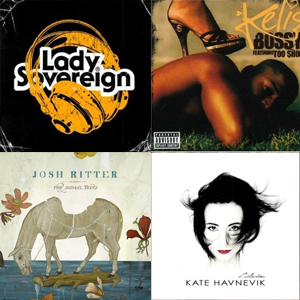 Here, at last, is my completed
(last updated: December 29, 2006)
list of the best singles of 2006.
100 BEST SONGS OF 2006
:
My Love - Justin Timberlake
New Day - Kate Havnevik
Crazy - Gnarls Barkley
The Fear You Won't Fall - Joshua Radin
The Long Way Around - Dixie Chicks
When You Were Young (Jacque Lu Cont's Thin White Duke Mix) - The Killers
9 Crimes - Damien Rice
You And I Are A Gang Of Losers - The Dears
Ain't No Other Man - Christina Aguilera
Tell Me When To Go (Remix) - E-40 feat. Kanye West & Ice Cube

Thin Blue Flame - Josh Ritter
Postcards from Italy - Beirut
Who Am I - Will Young
Chasing Cars - Snow Patrol
Keep Bouncin (Street) - Too $hort feat. Snoop Dogg and Will.i.am

The Man - Pete Yorn
Show Me What You Got - Jay-Z
Knockers - The Darkness
Baby Makin' Hips - Fantasia
Hip Hop Is Dead - Nas
Love Me Or Hate Me Remix - Lady Sovereign Feat. Missy Elliott
Starlight - Muse
God's Gonna Cut You Down - Johnny Cash
Number 1 (Superchumbo Remix) - Goldfrapp
Nausea - Beck
Fidelity - Regina Spektor
Rudebox - Robbie Williams
Cobrastyle - Teddybears feat. Mad Cobra

Bossy (Cavemen Remix) - Kelis
Compton - The Game feat. Will.i.am

Concentrate - Xzibit
Promiscuous - Nelly Furtado feat. Timbaland

It Ends Tonight - The All-American Rejects
Need You Tonite - Mylo
Touch It (The Remix) - Busta Rhymes feat. Mary J. Blige Rah Digga Missy Elliott Dmx Lloyd Banks & Papoose
You Know I'm No Good - Ghostface Killah /Amy Winehouse

Sexyback - Justin Timberlake
And I Am Telling You I'm Not Going - Jennifer Hudson
Control Myself - LL Cool J Feat Jennifer Lopez
Emily - Joanna Newsom
Silent House - Dixie Chicks
Kick, Push - Lupe Fiasco
Doctor's Advocate - The Game feat. Busta Rhymes

Gotta Understand - Jurassic 5
Girls Gone Wild - Ludacris
Kick out the chairs (WhoMadeWho remix) - Munk feat. James Murphy

Stunna Shades - Federation feat. E-40
Come On! Let's Boogey to the Elf Dance! - Sufjan Stevens
Lost One - Jay-Z Feat. Chrisette Michele
Boston - Augustana
Here It Goes Again - Ok Go
Over My Head (Cable Car) - The Fray
Sympathy - Billy Talent
Suddenly I See - KT Tunstall
Henrietta - The Fratellis
Wamp Wamp (What It Do) - Clipse feat. Slim Thug

Crazy - Snoop Dogg feat. Nate Dogg

Welcome To The Black Parade - My Chemical Romance
The Train - Outkast feat. Sleepy Brown

All Over Again - Ronan Keating
Electrik Heat - The Seekwill - K-Os
Maneater - Nelly Furtado
Hush Boy - Basement Jaxx
Lolita - Prince
Sexy Love - Ne-Yo
Can`t Take It In - Imogen Heap
Be Easy - Ghostface Killah & Trife Da God
Fergalicious - Fergie feat. Will.i.am

How We Operate - Gomez
Game for Fools - Jamie Lidell
Leave The Pieces - The Wreckers
Moving Like A Train - Herbert
Paranoid Android - Sia
Wisemen - James Blunt
Wind It Up - Gwen Stefani
I Wish I Was A Punk Rocker (With Flowers In My Hair) - Sandi Thom
Cooking - Scritti Politti
All Good Things (Come To An End) - Nelly Furtado
Streetlights - Rocky Votolato
Stolen - Dashboard Confessional
Not Big - Lily Allen
What You Know - T.I.
Faster Kill Pussy Cat - Paul Oakenfold feat. Brittany Murphy
Follow The Cops Back Home - Placebo
Supermassive Black Hole - Muse
Unfaithful - Rihanna
On The Evening Train - Johnny Cash
Too Much To Ask For - Radio 4
3000 Flowers - Destroyer
Tent In Your Pants - Peaches
Whoo! Alright - Yeah... Uh Huh. - The Rapture
So Excited - Janet Jackson Feat. Khia
Long Distance Call (Remix by 25 Hours a Day) - Phoenix
Above The Clouds - Cyndi Lauper with Jeff Beck

I Bet You Look Good On The Dancefloor - Arctic Monkeys
Bulgarian Chicks - Balkan Beat Box
U & Ur Hand - P!nk
Poppin' My Collar - Three 6 Mafia
Steam and Sequins for Larry Levan - Matmos
Goodbye Earl - Me First and the Gimme Gimmes
Random notes:

I finalized these rankings using a complicated mathematical formula that involves how often I hummed the tune while waiting in line at Quizno's, the number of tweens who perform the song at karaoke night at the mall, and whether I can still stand listening to the song today.

I didn't limit myself to one song per artist, although I put the bar higher for repeat showings by a single artist.

I realize some of the songs are from albums released in 2005. Sue me.

Any weak choices should be blamed on programmers at Sirius Satellite Radio and all my favorite audioblogs.
If you feel my taste in music is craptacular, feel free to send me mp3s at junichi @ junichisemitsu.com.

--Junichi