CHEESUS CHRIST SUPERSTAR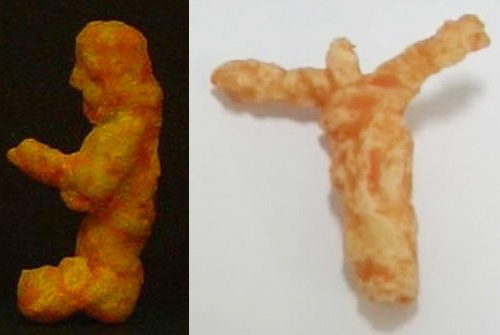 Cheesus is my homeboy

Two days ago, a woman in Missouri
discovered
Jesus Christ in the form of a Cheeto. (Her Cheesus is on the right, in the image above.)
Her discovery is suspicious, however, because a church youth leader in Houston
found
Cheesus in his bag several months ago. (His Cheesus is on the left. There's video evidence below.)
Before I opine on this matter, let me begin by stating that I am firm believer in Cheesus.
I totally believe that the son of God would make a second appearance on Earth in the form of a Cheeto. After all, I get a taste of heaven every time I open a bag.
But a second
and
third coming in the form of Cheesus? I smell blasphemy in the orange dust.
I'm guessing the crucifix Cheeto in Missouri is actually Cheelzebub, the Prince of Darkness, masquerading as the son of God.
*

It's too bad neither Cheesus was of the Flaming Hot variety, since some Christians -- especially those in the South -- could use a spicy gay savior.
Labels: Cheelzebub, Cheesus, spicy gay savior
--Junichi