HERE WE GO AGAIN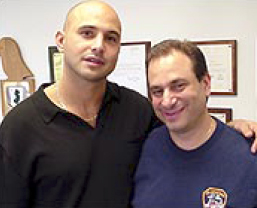 Miss Jones v2.0
Apparently, Asian people still make good targets on east coast radio.
In the spirit of
Miss Jones and Hot 97
, Monday's episode of New Jersey 101.5 FM's afternoon show -- "The Jersey Guys" -- featured hosts Craig Carton and Ray Rossi repeatedly mocking Asian accents, chanting "ching chong ching chong," and intimating that they moved out of the city of Edison because "Orientals and Indians" were taking over.
Discussing the Democratic mayoral candidates in Edison, the hosts said "Americans should vote for Americans," making clear that a Korean American candidate (and pretty much all people of color) do not qualify as Americans.
The hosts also asked their listeners, "Would you really vote for someone named Jun Choi?" -- which does not bode well for the political marketability of my own name.
Similar to the Hot 97 controversy, the station's general manager
offered a weak apology
saying the "Jersey Guys" did not mean to "hurt" anyone during their show, using the excuse of comedy as a defense.
I read through the transcript and I don't see any argument that these statements were intended to be comical.
(If you want a PDF transcript of the discussion, click
here
.)
I was reluctant to post anything about this, since these two colostomy bags sound like they would probably masturbate to the media attention. But the station's apology is especially vacuous and devoid of any remorse. And I salivate at the thought of these two bigots getting fired.
As you know, however, it took several weeks and lots of fuss before convincing advertisers to cancel their ads and before Hot-97 felt pressure to fire the producers of the "tsunami song," suspend Miss Jones, and make a million-dollar tsunami relief donation. (Sadly, most of the
advertising businesses have returned
and Miss Jones still hosts the morning show.)
So here's the question: Is this a battle worth choosing?
I say yes.

(Credit: Yangerbanger!)

--Junichi