BEST SONGS OF 2005 (JUNICHI'S PICKS)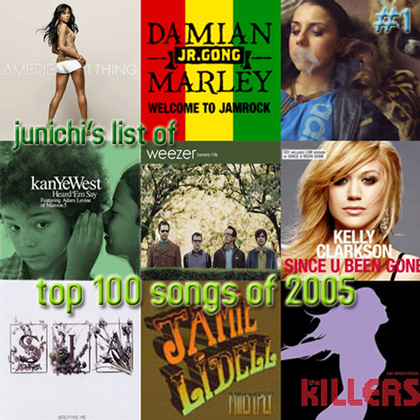 I hereby submit the following as my picks for the hottest 100 singles of 2005:
Random - Lady Sovereign
Multiply (Gonzales Mix) - Jamie Lidell
Breathe Me - Sia
Beverly Hills - Weezer
1 Thing (remix) - Amerie feat. Jay-Z
Cosy in the Rocket - Psapp
Signs - Snoop Dogg feat. Charlie Wilson & Justin Timberlake
Break It On Down (Battlezone) - Flii Stylz & Tenashus
Go - Common
Mr. Brightside - The Killers
Shake - Ying Yang Twins feat. Pitbull
What Sarah Said - Death Cab for Cutie
Since U Been Gone (Jason Nevins remix) - Kelly Clarkson
10 $ - M.I.A.
Arc of Time - Bright Eyes
Extraordinary Machine - Fiona Apple
It's Like That (David Morales Club Mix) - Mariah Carey / Fatman Scoop
Heard 'Em Say - Kanye West
Hide and Seek - Imogen Heap
Hollaback Girl - Gwen Stefani
Wait (The Whisper Song) - Ying Yang Twins
Kirsten is a Fu@kmachine - Tiger Tunes
Corners - Common
Catch My Disease - Ben Lee
Brand New - Rhymefest & Kanye West
Lose Control - Missy Elliott feat. Ciara & Fat Man Scoop
Mesmerized (Freemasons Mix) - Faith Evans
You're Beautiful - James Blunt
Nahmean Nahm Sayin - The Herbaliser feat. Jean Grae
Goodnight and Go - Imogen Heap
My Doorbell - The White Stripes
Shine - The Lovefreekz
Hell Yes - Beck
Nasty Girl - The Notorious B.I.G. feat. Diddy, Nelly, Jagged Edge
Feels Good Inc. - Gorillaz
Welcome to Jamrock - Damian Marley
Galvanize - Chemical Brothers feat. Q-Tip
Bad Man - Missy Elliott feat. Vybez Cartel & M.I.A.
16 Military Wives - The Decembrists
Chewing Gum (Headman Vocal Remix) - Annie
Dem Boyz - Lil' Mo
Can I Have It Like That - Pharrell feat. Gwen Stefani
Collide - Howie Day
Hit The Floor - Twista feat. Pitbull
A Little Bit of Shhh (Smallstars Remix by Adrock) - Lady Sovereign
My Humps - Black Eyed Peas
Middle of Nowhere - Hot Hot Heat
All Night - Damian Marley
Ruby Blue - Roisin Murphy
Bucky Done Gone - M.I.A.
Errtime - Nelly
When I'm Gone - Eminem
Best of You - Foo Fighters
George Bush Doesn't Care About Black People - The Legendary K.O.
Brothers on a Hotel Bed - Death Cab for Cutie
Hey Mama - Kanye West
Hung Up - Madonna
Marvo Ging - The Chemical Brothers
Touch the Sky - Kanye West
Hate It or Love It - The Game & 50 Cent
Stay Fly - Three 6 Mafia feat. Young Buck, 8-Ball and MJG
Just A Moment - Nas feat. Quan
Que Onda Guero - Beck
Talk - Coldplay
So Seductive - Tony Yayo feat. 50 Cent
E-Pro - Beck
Be Easy - Ghostface
9 to 5 - Lady Sovereign
The Get Down - Z-Trip feat. Lyrics Born
Say Somethin - Mariah Carey
Trapped in the Closet Ch. 1-12 - R. Kelly
Dare - Gorillaz
Was It You? - Spoon
Lovin' It - Little Brother
Walk Away - Kelly Clarkson
The Mask - Danger Doom & Ghostface
Knuckle Down - Ani DiFranco
We Might As Well Be Strangers (DJ Shadow Remix) - DJ Shadow vs. Keane
Petrified - Fort Minor
In The Kitchen - R. Kelly
La Breeze - Simian
Let's Get Blown - Snoop Dogg
So Sick - Ne-Yo
I Know Why - Sheryl Crow
Mamacita - Pharrell feat. Daddy Yankee
Twin Cinema - The New Pornographers
There It Go (The Whistle Song) - Juelz Santana
New Whirl Odor - Public Enemy
The Hand That Feeds - Nine Inch Nails
Furious - Z-Trip
These Boots Are Made For Walkin - Jessica Simpson
Talkin' About - Amerie
Daft Punk Is Playing At My House - LCD Soundsystem
Can't Let Go - Anthony Hamilton
Oh - Ciara feat. Ludacris
Daughters of the Soho Riots - The National
Get It Poppin' - Fat Joe feat. Nelly
Dance, Dance - Fall Out Boy
Change - Tracy Chapman
Still Tippin - Mike Jones feat. Slim Thug

I've temporarily uploaded songs #
1
,
2
,
3
,
8
, and
28
. While I prefer the original versions of "Random" and "Breathe Me," I uploaded the interesting remixes, for the hell of it.

Yes, I am aware that some of the above songs were technically released in 2004.

Bonus list:
Top 10 Music Videos of 2005
Twisted Transistor - Korn (featuring Snoop, David Banner, Lil Jon, Xhibit)
We Will Become Silhouettes - Postal Service
Caught Up - Usher
Trapped in the Closet Ch. 1-12 - R. Kelly
Only - Nine Inch Nails
Testify - Common
Beautiful - Moby
Dream - Dizzee Rascal
1976 - RJD2
Rappcats Pt. 3 - Quasimoto & Madlib
--Junichi