57.4% SAY PRAYER CAN CURE A TERMINAL ILLNESS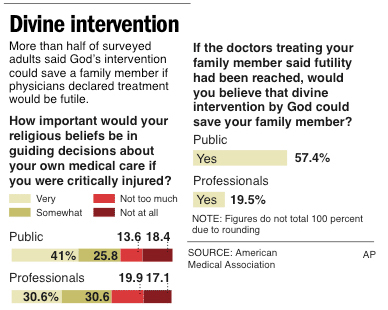 According to a
new survey
, 57.4% of Americans believe that prayers to God can cure a family member from a terminal illness, even after doctors declare that treatment would be futile.
I find that number bewilderingly high.
I am not here to criticize religion, however. If somebody I love were told that no medical technology could save him or her from a fatal illness, I would probably pray to every deity every known, including Xenu, Poseidon, and the
Flying Spaghetti Monster
.
I am here, however, to submit that there must be a positive correlation -- indeed, a causal relationship -- between the high percentage of those who believe in the healing power of prayer and the fact that
47% of Americans do not have health insurance
.
Why would one need health insurance if God can cure even terminal illnesses?
*

On a related note, after this past weekend's
spiritual forum in Orange County
, I now predict that McCain and Obama's religion/faith (which are very similar) is going to be a bigger political issue in the 2008 presidential election than their health insurance plans (which are very different), much to my dismay.
*

Now is as good a time as any to spotlight the
Spiritual Science Research Foundation
's (a real foundation!) guide to the
efficacy of various types of prayer positions
:
Keep in mind that the chart above must be accurate since the foundation has the word "Science" in its name.
Labels: 2008 presidential election, health, prayer, religion
--Junichi