SHANGHAI: CITY OF LOST MEMORIES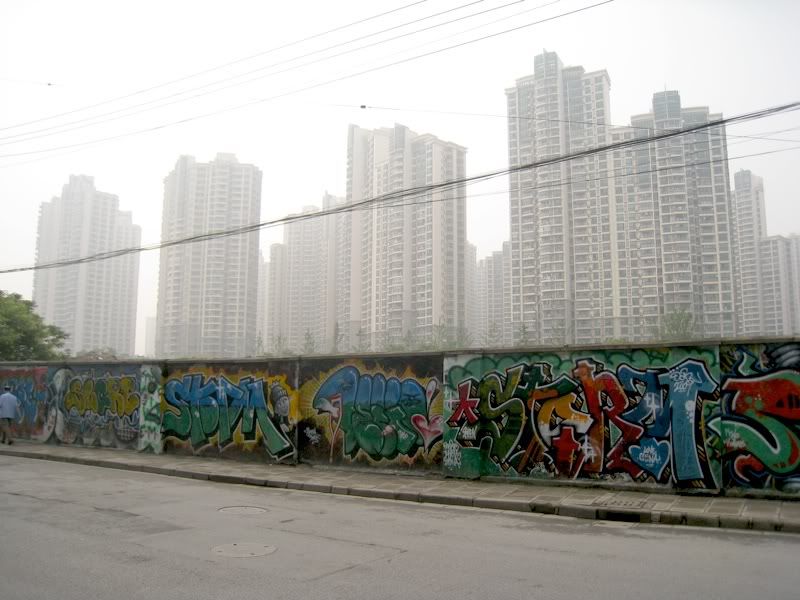 the road to m50
In early June, myself and my family went to Shanghai to visit my parents. This was the third trip I had made there since 2002; you can read my travelogues from the first two
here
and
here
.
It's been five years since my last visit and not coincidentally, it's the first time I've been back since El-Boogie was born. I'm sure I would have made it back sooner but the idea of flying with a baby or even toddler for 12 hours inspired too much anxiety for us to gut it out. As it turns out, El loved the plane trip out and what's not to love? Snacks + meals + a
portable DVD player
(best. investment. ever) + little gifts + coloring books + binky = everything she loves crammed into half a day. All the plane needed was a bouncy house but I don't think you get those kind of perks in United Economy.
The excitement began the moment we landed...mostly because Chinese officials, still smarting from the avian flu outbreak of a few years back, were hyper-paranoid of the swine flu. Planes coming in from the U.S. had to first be cleared by China's version of the CDC, which meant a bunch of white Hazmat suited guys going around the plane and
zapping everyone's forehead with an infrared thermometer
. Under other circumstances, I'd say it was surreal but somehow, it seemed like the proper way to kick off the week.
More after the jump:

The most immediate change I noticed about Shanghai was...change. I thought the city was already over the top in 2004 but that was before major construction had begun for the 2010 Shanghai Expo, a city-wide event that is rumored to bear a price tag greater than even the recent Beijing Olympics. Most obviously, there are some huge venues undergoing construction right now, including this inverted pyramid pavilion that wouldn't be out of place from Blade Runner (and indeed, Shanghai, more than ever, seems to realize futuristic visions of the neo-city as seen in sci-fi and anime from the past), the other a massive dome-like venue that reminded me of one of the space ships from ID4. However, many of the changes around the city are less spectacular but no less significant. All along the major thoroughfares, high-rises are getting "face lifts" to freshen up their exteriors. In some cases, that means giving some buildings fake brick facades - they have the look and texture of brick but aren't brick at all. It has also been striking to see the extent that pseudo-European styles have been applied to apartments; you have these 20-40 story buildings with out-of-place Italian or French motifs.

However, it's not the quality of the architecture that makes the biggest impression - it's the sheer quantity. This is what also struck me in 2002 and 2004 but seems even more omnipresent (and slightly oppressive) now. It's not unusual to see rows upon rows of massive, identical apartment buildings stacked towards the horizon. It's like this everywhere in Shanghai, especially Pudong, the newer part of the city that sits east of the river. Pudong is where the most aggressive development has occurred - 20 years ago, it was mostly farmland, these days I'd wager only Dubai would exceed it for the sheer degree of transformation and (over)development. I stayed in Pudong in 2002 and was already astounded by the outrageous of the skyscrapers and the skyline has only continued to scrape upward - the main building that wasn't here 5 years ago is currently (and only temporarily) Shanghai's tallest - the "bottle opener"-shaped Shanghai World Financial Center. Ground was recently broken on what will become the new tallest building in China once completed and I wouldn't be surprised if that will quickly be supplanted.

However, what was far more striking to me in Pudong was what was at eye level. My folks live off of Nanjing Xi Lu, one of the major E-W thoroughfare in downtown Shanghai and home to countless high-end shops but Nanjing Xi Lu feels positively quaint compared to Pudong's commercial makeover. There's simply more room to build in Pudong and developers have taken full advantage - everything tries to be taller, bigger, flashier, etc. There are few better embodiments of this than Super Brand Mall, a monstrous, 10 story mall that is probably at least 3-4 times the size of, say, the Beverly Center or Glendale Galleria. It doesn't have its own rollercoaster (yet) but it still is one of the great (and by that, I don't mean "good") monoliths to Western consumerism. Everything you could possibly hate about a mall is super-sized here though even I have to admit, the kid's playground on the 7th floor was pretty damn awesome. And I can't hate on the Orange Julius in the basement that serves up a guava-lychee milkshake. But otherwise, I just found it to be an exhausting, ostentatious palace to rampant consumerism (and hell, I live in LA so imagine what it must be like to find something worse).

This all said though, with change comes opportunity and Shanghai is teeming with that as well, at least based on the conversations I had with friends there, both local guys like Gary Wang and ex-pats from the U.S. and Europe. The city is dynamic in a way that few American cities were even before the recession and by the end of the trip, I could appreciate the attraction of why people are coming to live and work here (and it's not just for the xiao long bao) (more on food later). Everything feels possible and so much of the city's energy seems to be directed towards that ideal.

I saw there's a massive complex going up next to where my folks live but even though they've demolished most of the area where some new towers will eventually get built, there's an older, stately mansion still sitting amongst the rubble and I've been told the city is going to literally move the building a few dozen yards to preserve it while still putting it somewhere more "convenient." How you would exactly move a building of this size is beyond my engineering imagination but these kinds of projects can be found throughout the city. The past here is an obstacle and either you move it or destroy it. Nostalgia is too expensive.

All around the city are posters with the slogan "Better City, Better Life." Considering how forward-looking the Expo is supposed to be, you'd think they could come up with a better tagline than something that sounds dull even by Communist propaganda standards. This is only outdone by the bland posters that go with them; I don't mean to sound too "I'm a Mac" here but the design looks straight off of something Microsoft would have done, with the exception of the Expo's mascot, Haibao, who looks like he should be shilling for Aim Toothpaste.

---

At least the food is still good. At least, depending on where you can still find it. There's a popular food alley near my parents - Wujiang Lu - that houses Yang's Fry Dumplings, one of the better known spots in Shanghai to get fried xiao long bao. Unfortunately, they're going to be demolishing most of this alley to make way for new developments, a sad blow (I would think) to the rich street food culture of the city. Of course, when you compare Wujiang with Nanjing Xi Lu, it's easy to see why Wujiang is on its way out - it's like two different cities practically within a block of one another.

According to my friend Gary, who I trust in all things related to food, the main spot for all the good grub in the city is now the Jingan neighborhood, which is basically the northwest quadrant closest to where Chengdu Lu and the Ya'nan Elevated Rd. intersect. Lots of cool, unpretentious stores and restaurants, including possibly the best xiao long bao place I've tried in the city, yet (Fuchun).

Note: is it possible to overload on xiao long bao? Yes, yes it is. Delicious but man cannot live by soup dumplings alone.

There was also a really amazing DVD store in the Jingan area too. I wrote a lot about the bootleg DVD scene before but it's elevated considerably in the last five years. The packaging, especially, is astounding - if you didn't realize that all this stuff were bootleg copies, you could certainly be fooled when the complete Studio Ghibli collection is packaged nice enough to make the folks at Criterion notice. The days of thin plastic + paper covers is long gone...almost. There are still exceptions to that - I found this hilarious, the back cover for a bootleg of My Zinc Bed (I didn't even realize that was the actual title of the film...I thought for sure it was some "lost in translation" example). Clearly, whoever designed the back cover just cribbed notes off the web for it.

Culturally, I didn't get a chance to soak in as much as in previous times but I have to say: I had the best time DJing at The Shelter, a nightclub that Gary helps run that gets its name from the fact that it is built out of an old bomb shelter. Not for the claustrophobic but by far, one of the most interesting spaces I've ever spun in . Even though the headlining DJing didn't make it out (visa problems), we still had a healthy crowd (most ex-pats, quite a few Japanese trainspotters too) dancing to an evening of funk records (or, er, sound files). They're about to open a Beijing Shelter too, also built out of a bomb shelter.

S and I got the afternoon off one day to go visit the current center of Shanghai's arts scene, M50, aka 50 Monganshan Rd. Better minds than mine have already written about it but suffice to say, it's comprised of a dense series of overlapping galleries, some small, some sprawling. The thing about M50 though is that while it takes up part of the block, its integration into the surrounding buildings creates these mish-mashes of residential/commercial use that's quite familiar to anyone who's seen gentrification in motion. To wit...

I didn't take very copious notes on the art we saw (I leave that to my art critic wife) but I did enjoy the Su Jin exhibit at M97, "Memory City", which, to me, does a provocative job of capturing the chaos and cost of change in Shanghai. At first, I didn't even realize Su's work was montage; it seem plausible enough from a distance but I should have known better - like Hong Kong's bygone Kowloon, the real parts of Su's phantasmal Shanghai have largely been reduced to construction dust.


--O.W.