HIP HOP LIT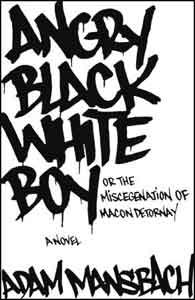 two tomes for your mind
I've been derelict in plugging Adam Mansbach's new book sooner.
Angry Black White Boy
dropped about a month ago and not only is this my man Adam's second novel, it's his first that engages with the politics and culture of hip-hop and so far, it's gotten
rave reviews
. Even better - I made a mix-CD to go with it. In the next week or so, I'll get around to actually plugging the CD myself (just haven't had the time) but
Turntable Lab
and
The Giant Peach
both have copies of it for now.
More recently, my man Brian Coleman self-published a really incredible book -
Rakim Told Me
, which, in Coleman's analogy, fills in the space of all the missing liner notes that should have accompanied classic '80s rap albums like Schoolly D's
Saturday Night
, Eric B and Rakim's
Paid In Full
, Big Daddy Kane's
Long Live the Kane
, Public Enemy's
It Takes a Nation of Millions
and others.
These are all based on first-person testimony that Brian collected through his many years as a music journalist and more specifically, writing the
Classic Material
column for
XXL
. Ironically, it was my bad not to recruit Brian for my own
Classic Material
but at least I can make itty bitty amends by saying that
Rakim Told Me
is an incredible resource just to have these stories documented. Not only does the book include the artists' voices on how they made the album, but each chapter also breaks down the LP in question, almost song by song. For example, I didn't realize on D.O.C.'s "Funky Enough," they replayed "Misdemeanor" because it couldn't be sampled properly.
What's really amazing to me is that publishers passed on Brian's book to begin with. In true hip-hop DIY fashion, he just put it out himself.
Order it direct
.
--O.W.