FRED KOREMATSU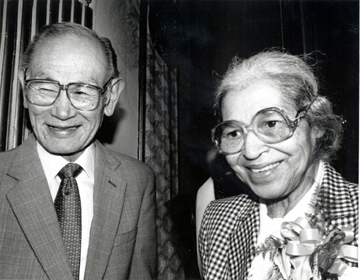 National Monuments: Fred Korematsu and Rosa Parks
This afternoon, I attended the memorial of the late Fred Korematsu, a soft-spoken but fierce soldier in the fight for racial justice. It was a packed house at Oakland's First Presbyterian, filled with so many people whose lives he touched.
Fred was a self-described common man who apparently loved hot dogs and sukiyaki. But his life became anything but commen when he, during World War II, defied the President of the United States who ordered him and 120,000 other Japanese Americans to be sent to internment camps. While this 23-year-old welder from San Leandro clearly believed Executive Order 9066 was immoral and unjust, he also avoided the camps to be with his lover at the time, who was Italian American. He even got plastic surgery to try to disguise his Japanese ethnicity.
But Fred was eventually arrested and sent to live in the horse stalls at the Tanforan Relocation Center and then eventually to the concentration camp in Topaz, Utah. Refusing to listen to those who cautioned him against being a "troublemaker," Fred agreed to challenge the constitutionality of the government's actions and took his case all the way to the Supreme Court.
Though a majority of the Justices ruled against him, declaring that the government's actions were necessary, District Court Judge Marilyn Patel, in 1983, eventually vacated his conviction and lambasted the government's actions. This helped pave the way for the Civil Liberties Act of 1988, which provided minimal reparations and a congressional apology to those who were interned.
In 1998, he received the Presidential Medal of Freedom from President Clinton, who compared him to other civil rights heroes in the history books: Homer Plessy, Oliver Brown and Rosa Parks.
I especially admire Fred because he remained a strong spokesman against intolerance, even into his eighties. After 9/11, he often spoke up to express his solidarity with Muslim Americans, Arab Americans, and South Asian Americans. He also filed an amicus brief with the U.S. Supreme Court to support two prisoners who challenged the Bush Administration's policy of detaining persons without formal charges, without a hearing, without access to counsel or judicial review.
Fred was the rare American who loved his country and challenged its government at the same time. As Dorothy Eherlich of the ACLU Northern California said, Korematsu was "a patriot who opposed the Patriot Act."
Fred was also a humble man who smoked from a pipe and spoke with a dry sense of humor. According to filmmaker Eric Fournier, when Fred was invited to have dinner with Justice Breyer, he first inquired how the Justice voted on Bush v. Gore.
Apparently, he referred to Sinatra/Anka's "My Way" as his song, which I find fitting:
For what is a man, what has he got?
If not himself, then he has naught.
To say the things he truly feels;
And not the words of one who kneels.
The record shows I took the blows -
And did it my way!
Thanks for speaking up, Fred. I remain in your debt.
R.I.P. Fred Korematsu.
January, 30, 1919 - March 30, 2005.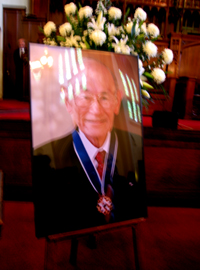 The family is asking that donations be made to the The Fred Korematsu Civil Rights Funds at the
Asian Law Caucus
, 939 Market St. #201, San Francisco, California, 94103; American Civil Liberties Union of Northern California, 1663 Mission St., San Francisco, CA 94103 and also the Memorial Fund at The First Presbyterian Church, 2619 Broadway Street, Oakland, CA 94612.
--Junichi