AFFIRMATIVE NEWS?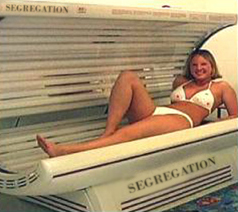 Sign of the Times?
It takes a village to raise a child, but it takes a village of lots of pale Asian and white people to justify opening a tanning salon there.
When I was a Berkeley undergrad during the previous millennium, there was never a tanning business on Telegraph Avenue, one of the main drags near the Cal campus.
But thanks to Proposition 209, which decimated the black & Chicano/Latino population on UC's flagship campus, there's a tanning salon on Telegraph now.
Another sign of the times is Berkeley's black graduation and Chicano/Latino graduation ceremonies. When I was an undergrad, these celebrations packed the Greek Theater. Today, there are so many empty seats, you'd think you were attending a Tag Team/Buster Poindexter double-header.
Of course, if after reading about the "rising numbers" in this week's articles on the latest UC admission statistics, you might have concluded that underrepresented minorities are doing better than ever.
Here's one representative paragraph of
news coverage
:
Students admitted in each ethnic group were also up from last year when combined across the system. Among African-Americans, Latinos and Native Americans – those deemed by the university to be "underrepresented minorities" – admissions grew by 1,300, or roughly 14 percent.
But I scanned the raw statistics for Berkeley's freshman admissions for Fall 2005, which can be found
here
.
Fall 1997 to Fall 2005 Admit Data for all-UC and UC Berkeley
While the numbers of American Indian, Chicano/Latino, and African American high school students admitted to UC Berkeley did rise relative to last year, the current numbers pale in comparison to the admit class of Fall 1997, which was the last group admitted before the UC was banned, by law, from considering race as a factor of admissions.
In fact, as you can see in the above table, when comparing the Fall 2005 numbers to the Fall 1997 admit statistics, the number of American Indian students dropped from 61 to 42, a decrease of 31.1% (if I've done my math correctly).
The number of Chicano/Latino Berkeley admits dropped from 1,216 to 1,097, a decrease of 9.8%.
The number of African Americans dropped from 525 to 262, a decrease of 50%.
Meanwhile, the number of Asian Americans increased from 2,500 to 3,491 - an increase of 39.6% - and the number of white students increased from 2,247 to 2,906, an increase of 29.2%.
And, of course, if you compare the Fall 2005 statistics to the racial demographics of today's California high school population, you'd think we're still living in the Jim Crow era.
And maybe we are.
--Junichi