SAVE ARRESTED DEVELOPMENT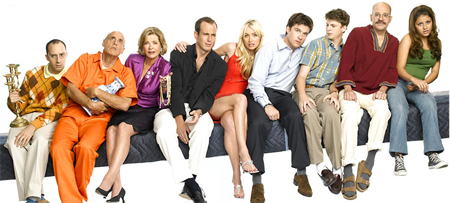 Lord, I've really been real stressed, down and out, losing ground.
As a writer, I have a tendency to be hyperbolic, but let me say that I do not exaggerate when I proclaim that
Arrested Development
is the best sitcom in the history of television.
Last night's season finale was orgasmically satisfying and an astropotamus present from the show's creators to all the show's fans. As usual, the brilliant writers stacked hundreds of jokes into 22 minutes, referencing countless previous episodes.
The humor is so multi-layered that there are several websites like this one devoted to cataloguing the references. Thanks for the link, Hank!

Sadly, despite winning multiple Emmys and stimulating countless televi
sion critics' circle jerks, AD still has poor ratings and is facing cancellation. Fans like myself are especially panicked after Fox cut the season from 22 to 18 episodes.
(Sidenote: I never imagined that I could be heartbroken over a television show ending; I often ridiculed those who devoted their energies to saving M*A*S*H, Star Trek, Another World, etc. from cancellation.)
But here I am, begging you to do whatever you can to help save this show. Most of all, watch the show. Buy
Season 1 on DVD
. Write Fox. Sign
this petition
or visit
this site
to save the show. Often. Blackmail your Nielsen friends into tuning in.
The writing, acting, and directing on this show is so deliciously good that I can easily create a Top 10 list of my favorite things about each episode.
For those who watched last night's series finale (or for those who like spoilers), here is my list of favorite moments from Episode 218:
TO CONTINUE READING...
TOP 10 FAVORITE MOMENTS FROM LAST NIGHT'S EPISODE OF ARRESTED DEVELOPMENT

10. Michael jokes that Franklin the Puppet can attend the club now that he is white-washed.

9. Conservative girlfriend Ann rejects George-Michael's suggestion that they kiss because "

This isn't Mark Cherry's

[creator of Desperate Housewives]

house

."

8. Kitty not-so-discretely reveals that her AA sponsor is John Laroquette from Night Court.

7. GOB and Franklin's duet: "

It ain't easy being white / It ain't easy being brown. All this pressure to be bright / I got children all over town.

"

6. Kitty, Tobias, and Lucille all flash their chests.

5. Ron Howard (the narrator) explains that the cousins in Maeby's remake of "Dangerous Cousins" were presented as not-biologically-related in order to avoid scandal; later, after cousins Maeby and George-Michael kiss, he narrates that they may not necessarily be biologically related.

4. Oscar: "

I was going to share my Pop Secret with you, but forget it!

"

3. One of the signs at the protest: GOD DOESN'T CARE ABOUT RATINGS (Thanks, TiVo.)

2. Another reference to Tobias' ambitious sexuality when he says that was in the bathroom on his knees in front of the toilet (but because of his eating disorder).

1. The following dialogue:

Michael (in jail): Well, when you see GOB, tell him I've got a nice hard cot with his name on it here.
Lucille: You'd do that do your own brother?
Michael: I said

cot

.

(How do they get this past censors?)


--Junichi