ON THE EXTREME ENDS OF INFLUENCE
Time's Most Influential Caricatures
The latest edition of Time Magazine features their second annual list of "
The 100 Most Influential People in the World Now
."
The list includes a wide assortment of people like Palestinian leader Mahmoud Abbas, ex-convict Martha Stewart, the BlackBerry inventors, North Korean leader Kim Jong Il, actress Hilary Swank, Senator Barack Obama (already?), fashion designer Miuccia Prada, CEO J-Hova a.k.a. Jigga-man, News Corp. tycoon Rupert Murdoch, baller LeBron James, Ukranian President Victor Yushchenko, Secretary of Evil Donald Rumsfeld, and Satan hereself: Ann Coulter, among others.
As interesting as their list may be, I don't find it nearly as thoughtful and engaging as ...
The 100 Least Influential People in the World Now
Among the honorees:
President

Gerald Ford

John Oates

, of r&b duo Hall & Oates, who claps in "Private Eyes"

Gail Halladay

, Product Publicist for the Mormon Tabernacle

Actor

Clint Howard

William Powell Lear

, inventor of the 8-Track

Molly Clay

, editor of SexyFandom.com, an adult Trekkie site

Gangsta rapper

Skee-Lo

Procrastinators' Club of America

, distributor of

Last Month's Newsletter

Clarence Thomas

, Supreme Court Justice


"Baby Jessica

," young adult (no longer a baby) and no longer stuck in a well


Michael Frost Breckner & James Gorman

, script writers for

Cutthroat Island

Lumidee

, singer


Larry Elppin

, Wal-Mart greeter in Malden, Missouri:
Bunny D.

and

Lady Tigra

, lead vocalists of L'Trimm

John Wayne Bobbitt

, adult film star

Rick Dees

, radio host & comedian

Arthur David Macias

, nude knife-wielding messenger for the anti-Christ

Daisy Fuentes

, model

Fred Durst

, vocalist


Paulette McWilliams

, Firefox on

Breakin 2: Electric Boogaloo




Billy Bush

, correspondent

Nikko Smith

, American Idol two-time reject

Harry Snyder

, former Director of the Office of Surface Mining, Dept. of Interior


Pete Best

, fifth Beatle

Marc Price

, Skippy on

Family Ties

Roger Ross

, 'Animal Pet Doctor,' author of "Dog's [sic] with Diarrhea"

My aunt,

Kimiko Butaniku

: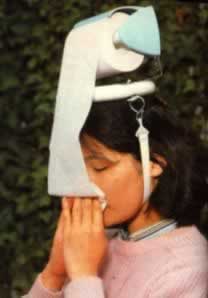 Aaron Brown

, news anchor

Layzie Bone

of Bone Thugs 'n Harmony

Joan Lunden

, former talk show host


Bradford L. Brooks

, inventor of the laser pointer


Prince Charles

, Prince of Wales

Kevin Costner

, actor

Leslee J. Unruh

, Founder and President, Abstinence Clearinghouse

and, to preempt the inevitable retaliatory comment for my inaccurately being perceived as mean-spirited:
Who's missing from this list of the least influential?
--Junichi