RANDOM ROUND-UP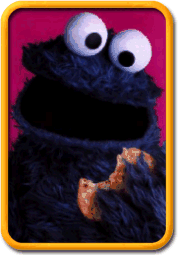 now he's on the south beach
1. Apparently,
"'C" is For Celery" now, over at Sesame Street
. Is that good enough for thee?
2. I always joke with Sharon that Design Within Reach should really be named Design Out of Reach since who really can afford to spend $850 for a
wall clock
? That's when S pointed me to
Design W/O Reach
which shows you how to make one of
these clocks
out of
tootsie pops
. (We like tootsie pops around here, for obvious reasons).
3. Look, I like
Star Wars
as much as the next guy...it was a formative film in my own life...but sometimes, I'm embarassed to share my fandom with
folks like these
. Where's Triumph the Insult Dog when you need him? (Ok, even I have to admit, though the rumors are that Ep III is potentially
worse
than its two predecessors...the
trailer is rather fire
.)
4. Asian Americans have complained about white actors playing Asians in yellowface...but what do you do when the complaint is
Chinese playing in Japanface
?
5. Not to hate but since when did the world really need
another Asian American women's magazine
? I'm looking forward to the
Audrey
vs.
Asiance
beef.
6. Last, but not least, Asian babies are everywhere!
Better Luck Tomorrow's Parry Shen has a baby girl
.
Salute
!
(Items 4-6, credited to
Angry Asian Man
)
--O.W.