FRIDAY FEEDBACK: ANDRE 3000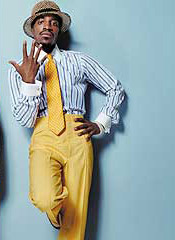 What is 3000 - 2995?
This week's Friday Feedback track is:
This track is from the soundtrack for
Class of 3000
, a new animated series on Cartoon Network, that seems to be the
Fat Albert
for the "Bill Cosby made cartoons?" Generation.
What do you think? It is bumping like fried bologna? Do you miss the good ol' days of
Southernplayalisticadillacmuzik
? Is throwing down really better than throwing up? Is it the "Hey Ya" of 2007?
Leave your comments below.
Labels: Friday Feedback
--Junichi