30 MORE FACTS THAT ARE DIFFICULT TO ACCEPT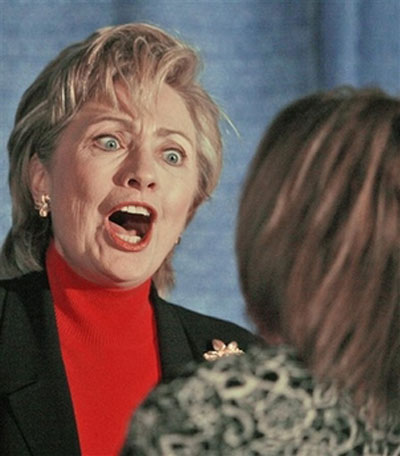 First Lady and a Tramp
Here is my latest OCD-fueled list of facts that are difficult for me to accept as true, or in the case of the photos on this page, undoctored.
Senator Clinton is considering the Dixie Chicks' "Ready to Run" as her campaign theme song -- even though the song is clearly about a woman who is planning to leave her man out of fear of commitment.



Hillary once gave a speech in which she joked that Mahatma Gandhi "ran a gas station down in St. Louis."



Jerry Falwell and Larry Flynt were good friends, even exchanging Christmas cards.



I can now use the Internet to find out who is sick in my zip code.



Author Zora Neale Hurston (

Their Eyes Were Watching God

) spent the last decade of her life working as a maid and died penniless in a welfare home.



Rep. James Sensenbrenner's $10 million fortune stems from his great grandpa's invention of the Kotex sanitary napkin.



The Olsen twins are being courted to play Bond Girls in the next 007 movie.



One in ten Europeans are conceived in an Ikea bed.



Doug E. Fresh is a Scientologist.



In an unprecedented verbal smackdown by an ex-president, Jimmy Carter recently called President Bush's administration "the worst in history" when it comes to international relations.



There is a formula to precisely measure the quality of my butt. (Those without access to NYTimes archives can read a copy here.)



Over a decade has passed since the Spice Girls' "Wannabe" was #1 on the Billboard charts.



The world's tallest man is 7' 9" Bao Xishun from Inner Mongolia. (Yes, this means that everybody on this planet, except for Xishun, is shorter than an Asian man.)



The aforementioned Xishun recently used his incredibly long arms to pull out plastic shards from two dolphins, saving the dolphins' lives.



Harraj Mann, a 23-year-old cell-phone salesman of Indian descent, was interrogated as a terrorist suspect after a taxi driver reported that he was listening to the Clash's "London Calling" and Led Zeppelin's "Immigrant Song" in the cab.



Willard Scott claims that he created the character of Ronald McDonald.



On Led Zeppelin's

How The West Was Won

live CD, John Bonham's drum solo is 19 minutes long.





There is a term that describes President Bush's position in the above unedited photo: Lucky Pierre.



The U.N. Environment Program Convention on Migratory Species just appointed Nick Carter -- Backstreet Boy and former Paris Hilton flame -- as a "Special Ambassador of the Year of the Dolphin."



After a Japanese hospital created a drop box for unwanted babies, one father dropped off his 3 year-old preschooler boy there on its first day of operation.



Some people use this website as a search engine.



I can give piano recitals even after I die.



The #1 song in the U.S.A. is currently T-Pain's "Buy U A Drank (Shawty Snappin')".



Boy Scouts in L.A. can earn a new merit badge for "Respecting Copyrights" after learning the evils of downloading pirated movies and music.



Wrigley filed a patent for a gum that contains Viagra.



Our planet is apparently running out of disposable chopsticks.



Gladys Knight is Mormon.



After the video shoot for Lionel Richie's "Hello," a runner broke the famous bust of Lionel's head while carrying it to Lionel's trailer.



Somebody translated the Grammy Awards article I wrote for MSN into Japanese.



I find the video below (NSFW!) of Sad Kermit's cover of Nine Inch Nails' "Hurt" to be oddly ... moving.

Labels: Facts That Are Difficult To Accept
--Junichi