ON MONICA AND MERITOCRACY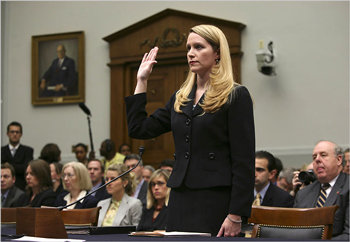 Another President, Another Monica Problem
A few weeks ago, I bet a friend -- who happens to be an Assistant U.S. Attorney -- over whether Alberto Gonzales would still be Attorney General today.
I am now $200 richer.
I knew it would take more time for W. to stop insisting that his friend Alberto is doing a heckuva job.
I wouldn't make that same bet today, however, after Monica Goodling's testimony this afternoon:
Cloaked with immunity, Goodling testified that Alberto Gonzales lied to Congress. She stated he did, in fact, see the list of soon-to-be terminated U.S. Attorneys.
I'm predicting Al's gone by July 4.
The damage of her testimony also extended to the White House. She
said
, "Despite my and others' best effort, [Deputy Attorney General Paul J. McNulty's] public testimony was incomplete or inaccurate in a number of respects. ... I believe the deputy was not fully candid about his knowledge of White House involvement in the replacement decision."
*

While we're on the subject of attorneys and job qualifications, I'd like to take this opportunity to admire Monica Goodling's rise to power.
Until she quit her job, Ms. Goodling, only 33 years old, served as the third highest ranking official in the United States Justice Department, empowered with the incredible responsibility of evaluating the job performances of every single U.S. Attorney in the United States.
How did she achieve so much power so fast?
For what it's worth, I've created a comparison chart using the
bio
of Ms. Goodling and another law school graduate her age who I'll refer to as "Jew-Knee-Chee" just to protect his anonymity.
I put any pivotal factors in bold.


Jew-Knee-Chee

Monica Goodling

Age

33

33

Undergraduate School

U.C. Berkeley,
#1 public university


Messiah College,


#1 Christian school in Cumberland County, Pennsylavnia

Law School

Stanford University School of Law


Regent University Law School



U.S. News Law School ranking

#2
Fourth Tier (below #150)

Attended law school founded by Pat Robertson?

No

Yes



Federal court clerkship?

Yes
No

Prior prosecutorial experience?

Yes
No

Worked for the Republican National Committee?

No

Yes



Blogs about Sad Kermit and the Dixie Chicks?


Yes

No

Offered job in the Justice Department?

No

Yes



Some might argue that it also helped that Ms. Goodling is relatively attractive, while "Jew-Knee-Chee" only pleases the eye of those with a fetish for stocky Asian men.
Given her hyper-Christian education, perhaps it will not surprise you that it was Monica Goodling who ordered that the partially nude statues in the Justice Department be
covered up
.
By the way, guess how many alumni of Pat Robertson's Regent University currently work for the Bush Administration? 150.
Labels: Alberto Gonzales
--Junichi