ORIENTAL MASSAGE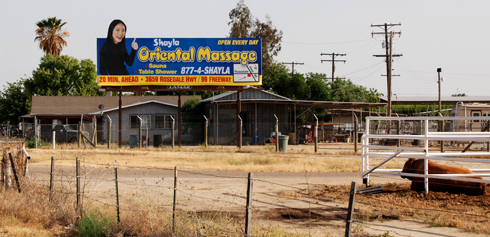 Driving south on Highway 99 near Bakersfield, you can't miss the above giant billboard for "Oriental Massage."
Last weekend, I finally pulled over, took a picture of it, and now feel compelled to post it here.
As I analyze my photo, I wonder the following things:
Who owns the Oriental Massage business: a person of Asian ancestry or non-Asian ancestry?


What the heck is a "table shower"?


Who is more likely to use the term "Oriental" in the United States today: Asians or non-Asians? (I'm thinking the former.)


How much is that house receiving in exchange for the giant "Oriental Massage" billboard planted in its backyard?


Does that cow always spend the entire day staring at "Shayla"?


How long before Poplicks becomes the first website listed when somebody types in "Oriental Massage" into a search engine?

Labels: Oriental massage
--Junichi