WHY I WILL NEVER BECOME HYPNOTIZED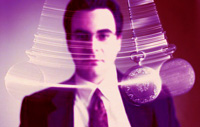 You are getting very sleepy ...
I trace my fear of hypnotists to my fifth grade summer. I worked for a local puppeteer and dressed up in furry animal outfits as a "costume entertainer" at the Tulare County Fair in 100+ degree heat. I walked around hugging fairgoers and unintentionally scaring the stool out of little children.
We costumed animals shared a dressing room with the hypnotist who performed packed shows every few hours. He was an older male who looked like the older model on the Brawny paper towels, except not quite as 70s-gay-pornstar-ish.
The hypnotist had a young female assistant who dressed in a sequined bathing suit with shiny nylons, reminiscent of Vegas' off-strip tacky waitress outfits. She always had this blank stare, a suspiciously subservient attitude, and less personality than a Stepford clone. My little elementary school self was convinced that he had kidnapped some poor woman and permanently hypnotized her into being his slave.
I've attended enough hypnotist shows to see how effectively hypnotists can channel the darkest, freakiest parts of the most otherwise-inhibited persons. Hypnosis is like alcohol, rohypnol, and amnesia in one.
In my opinion, the only reason hypnotists don't force participants to strip and engage in depraved orgies is that they won't ever get booked at any fair, school, or corporate function again.
With the exception of male dentists, I can't think of any creepier class of employees than hypnotists that are likely to molest people on the DL.
This video
doesn't do anything to convince me otherwise.
--Junichi