QUESTION OF THE WEEK #55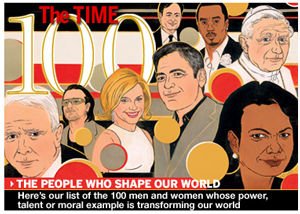 Who is the bearded woman between Bono and Clooney?
This Week's Question:
Time Magazine just released its "Time 100" of one of the "100 men and women whose power, talent or moral example is transforming our world." The list is below:
Artists & Entertainers

This diverse galaxy of influential stars has won fans and spawned imitators around the globe

Scientists & Thinkers

Whether by harnessing the power of the Internet or probing the mysteries of the mind, they have come up with the big ideas of our time

Leaders & Revolutionaries

Dictators, democrats, holy men (and a TV host)—these are the people with the clout and power to change our world

Heroes & Pioneers

Meet some global icons—actors, politicians, athletes, entertainers and others—who are using their influence to do the right thing

Builders & Titans

Innovation, grand plans, style and substance—that's what it takes to be influential in the world of business
Who is missing from this list?
--Junichi