TOP 10 STEREOTYPES I LEARNED FROM DESPERATE HOUSEWIVES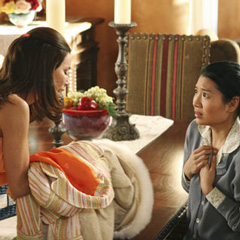 Please don't deport me!
After watching Sunday night's season finale, I prepared this Top 10 list of stereotypes I learned from watching this season's
Desperate Housewives
:
If Chinese women are deported back to China, they will become slaves.


Retarded black men cannot resist white nubile girls.


Mexican men and their Mexican gardeners love pregnant Asian housekeepers.


White mothers like to breastfeed as long as possible to lose weight.


Pharmacists and nuns are psychotic.


Gay sons must be abandoned or they will screw their mother's boyfriend.


Non-Chinese people pronounce the name "Xiao Mei" as "Chow Mein."


Recovering alcoholics also tend to be recovering sex addicts.


Pregnant strippers cannot be trusted to honor promises to sell their attractive babies.


Black families should never be allowed into white suburban neighborhoods.
Labels: Top 10 Lists
--Junichi