ANSWERS TO TRIVIA QUESTIONS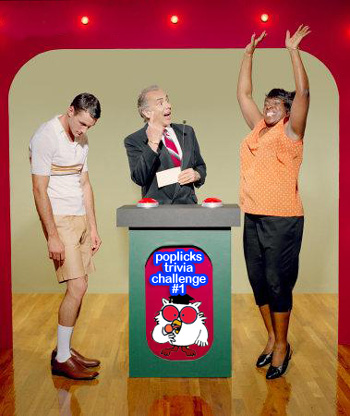 WINNER: Jeremy Somers! (not pictured)
A few days ago, to celebrate Poplicks.com's one-year anniversary, Junichi and I posted 20 difficult questions in our
first-ever trivia contest
.
We are happy to announce that there was a tie between
Jimmy Thong Tran
of San Francisco, California and
Jeremy Somers
, a graduating student at the Wharton School at the University of Pennsylvania. Both scored an impressive 12.5 points.
Since Jeremy Somers submitted his answers before Jimmy Thong Tran (which, according to the posted rules, breaks any ties), we'll be sending Jeremy some graduation presents as his prize. Mr. Tran, your consolation prize is that your middle name is still Thong.
Here are the questions and answers below:
Q1: What font is "Poplicks.com" (above) written in?

A:

Arial Rounded Bold

.




Q2: Name a former foreign leader, currently on trial for crimes against humanity, who once received a key to a major American city.

A:

Saddam Hussein

. He received a key to the city of Detroit.


Q3: Before Wayne Wang made the groundbreaking Chan Is Missing, he was working at a Chinatown organization in San Francisco, using that experience to base many of his characters off of. What was the name of that organization?

A:

Chinatown Resources Development Center

(later renamed Career Resources Development Center. Disclosure: I, Oliver, worked for them from 1994-95, which is why I knew this piece of info to begin with).


Q4: Name the two famous Shakespearean characters most likely to be mentioned when an air control tower is communicating with an approaching airplane pilot.

A:

Romeo and Juliet

.

They represent the R and J in the NATO Phonetic Alphabet, which is used by air traffic control towers.


Q5: Identify this early '90s Asian American rap group

A:

Fists of Fury

,

composed of MC R.A.W. (Radical Asian Woman) and MC C-Y.A.T. (Cute Young Asian Terrorist). They were out of San Francisco.


Q6: What product was Muhammad Ali endorsing in this ad below? (I used Photoshop to remove all the text from the ad.)


A:

d-Con Roach Traps





Q7: What is this audio snippet from?

A: Hiero vs. Hobo Battle on the Wake Up Show, 1994.


Q8: Name the original source of the drum break playing in the background of the song from Question #7.

A: "Cussin', Cryin' and Carryin' On" by Ike and Tina Turner.


Q9: Who is closest to the Statue of Liberty: BOB, JAN, MEL, SAL, or NAS?

A:

JAN

. JAN is the airport code for Jackson, Mississippi, which is much closer to New York than BOB = Bora Bora, MEL = Melbourne, SAL = San Salvador, or NAS = Nassau, Bahamas.


Q10: Name the British singer-songwriter whose debut album title is also an anagram of her name.

A:

Imogen Heap

. Her debut album title is

i Megaphone

.


Q11: Name this artist.

A: Romare Bearden


Q12: What national magazine was originally going to be titled "Facts"?

A:

Time




Q13: What date did this game happen on?

A:

June 19, 2004. Boston Red Sox vs. San Francisco Giants, at SBC Park

. That's Pedro Martinez pitching to Ray Durham who is about to knock one out of the park in the 1st inning.


Q14: What current baseball team's former name is also a beverage that was endorsed by the late Redd Foxx?

A:

Houston Astros

. They were once known as the Houston Colt .45s.


Q15: In January of 1990, The Source put out their "Rap Music Decade: 1980-1990" special issue, in which they list the editors' Top 44 Old School Hits and Top 40 "Def In the Now School" picks. Name one of the songs from the Top 3 on each list.

A:

Top 3 Old School = 1) Cold Crush Brothers' "Fresh, Wild, Fly and Bold." 2) Spoonie Gee and the Treacherous Three's "New Rap Language." 3) The Fearless Four's "Rockin' It". Top 3 New School = 1) Ultramagnetic MC's "Ego Trippin" 2) KRS One/BDP's "The P Is Free." 3) KRS One/BDP's "I'm Still Number One (Numero Uno Remix)




Q16: The Orange County Register once quoted Whoopi Goldberg as saying, "Stay off my eye color because if I want to change it I will." Who was she addressing?

A:

Spike Lee

, who criticized her blue eyes.


Q17: Name three of the Senior Contributing Writers who worked on Classic Material.

A:

E. Berry, J. Caramanica, J. Chang, T. Green, H. Hsu, J. Patel, P. Shapiro and D. Tompkins

.


Q18: Which of the following celebrities are not, in any way, of Lebanese descent: Salma Hayek, Ralph Nader, Paul Anka, Shakira, F. Murray Abraham, Casey Kasem, Tiffany?

A:

F. Murray Abraham

, who is of Syrian heritage. Everyone else has at least one parent of Lebanese heritage.


Q19: What former cheerleader from South Carolina first appeared on national television on The Price is Right before eventually doing cameo appearances on Full House and Married ... With Children?

A:

Vanna White




Q20: Translate Oliver's daughter's surname from Japanese/Chinese to English.

A: Her surname is Mizota-Wang. Wang is easy, that means

"king"

in Mandarin. Mizota is not that well-known, it means

"ditch by the side of the road"

in Japanese. Therefore, one could argue that my daughter's surname means

"king of the ditch at the side of the road."
--O.W.