HOW GOOD ARE YOU WITH BAD TV?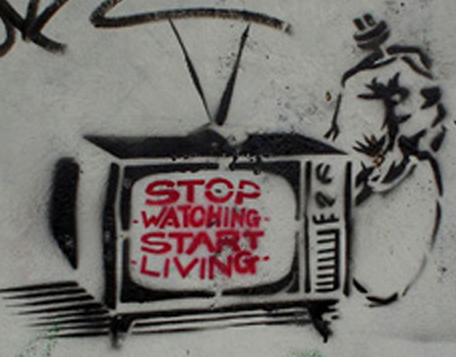 Reasons not to get TiVo
How much bad television did you watch in 2008?
Below, you'll find the titles of fifteen television shows and a brief description of each series.
Guess how many are actual television programs that aired this year and how many are fake shows that I just made up using my superior Balderdash skills.
OUTSIDERS INN

- Bobby Brown, Wilson Phillips' Carnie Wilson, and

The Brady Bunch

's Maureen McCormick open a Bed & Breakfast Inn in Newport, Tennessee.



CURL GIRLS

- This reality show chronicles six young lesbian surfers whose friendship becomes strained when they enter a surfing competition to win a trip to Hawaii.



SAMURAI GIRL

- The life of a Japanese girl named Heaven takes an unexpected turn when the Yakuza infiltrates her family and she must begin training to be a samurai to fight back.



PRIVILEGED

- An unemployed Yale grad decides to abandon a career in journalism to tutor two Palm Beach teen heiresses as she navigates the treacherous waters of high society in Palm Beach.



HOLE IN THE WALL

- Game-show contestants have to contort their bodies to fit through different shapes in a moving wall.



FROM G'S TO GENTS

- Fonzworth Bentley hosts a reality show in which 14 gangsters try to transform into sophisticated and refined gentlemen.



THE EX LIST

- Based on an Israeli hit series, this show features a single, marriage-yearning woman who is told by a psychic that she's already met "the one" and starts re-dating her exes.



TESTEES

- A scripted sit-com about two roommates who make a living as guinea pigs for a drug and product testing facility.



LUKE'S PARENTAL ADVISORY

- This shows follows around 2 Live Crew's Luke Campbell as he raises his two children and runs his adult entertainment business.



BINGO AMERICA

- A fast-paced, interactive game show in which players at home can download BINGO cards for a chance to win cash prizes.



LITTLE PEOPLE, BIG WORLD

- A reality show about Matt and Amy Roloff - both little people - who have four children, three of average height and one who also suffers from dwarfism.



REAL CHANCE OF LOVE

- A reality dating program featuring two brothers -- Real and Chance -- who were former contestants on the reality dating program

I Love New York

, which itself is a spin-off of the reality dating show

Flavor of Love

.



CRUSOE

- Robinson Crusoe and his native pal Friday try to survive on an island plagued by cannibals and mutineers.



SCREAM QUEENS

- Ten actresses vie for a break-out role in

Saw VI

by being put through an intense horror-acting boot camp.



D.L. HUGHLEY BREAKS THE NEWS

- A comedy news show on CNN in which comedian D.L. Hughley discusses the news in a comic light.

Did you guess which ones are fake? The answer is in the comments.
Labels: television
--Junichi