THE NUMBER 23
Pink slipped
After the sisters of sorority Delta Zeta on the DePauw University campus were seen as "socially awkward," the national Delta Zeta officers intervened and
axed 23 members
from the house.
At first, I assumed that it was no coincidence that the 23 evicted women (many of whom are in the picture above) included every overweight person, as well as every black, Korean, and Vietnamese member.
I also found significance in the fact that none of the 23 women in the picture above look like the ladies below.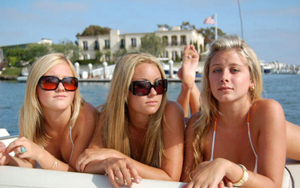 But in light of Jim Carrey's latest movie,
The Number 23
, losing at the box office this weekend to a horrendous Nicholas Cage flick in its second week, I'm going to run with the theory that the number 23 is just cursed.
After all, educated women wouldn't discriminate against other women, would they?
Labels: discrimination, sororities, the number 23
--Junichi