THIS WEEK IN POLICE & PORN NEWS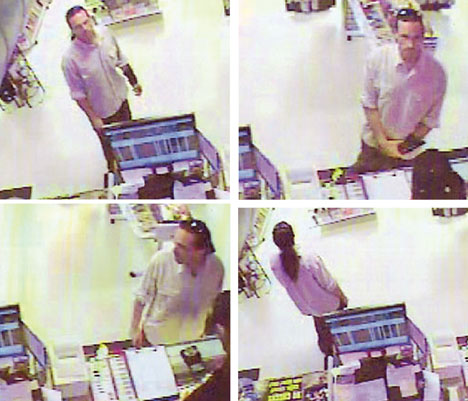 I need to inspect a copy of
Sisterhood of the Unraveling Pants
, please.
What One Man Will Do To Get Free Smut

: The man above entered a Colorado adult novelty shop and stated he was a detective in Longmont Police Department's "Age Verification Unit." He showed his badge and business card. He demanded the store provide him with videos so he could verify the ages of the actors and actresses. Unfortunately for him, the store clerk refused. It didn't help that his business card had no name on it and that the Longmont Police Department does not have an "Age Verification Unit." The actual police department is now on the lookout for the fake porn inspector who is in his mid-30s, has a long black ponytail, wears a leather brace on his left wrist, and drives a red Dodge Neon. (Does that not sound like the dreamiest personal ad, ladies?) Fake pediatric hernia inspectors, take note.
Officer, Is That A Rotating Rabbit In Your Pocket?

: In 2005, Houston police raided an adult novelty store and seized $80,000 worth of sex toys that were declared illegal. When the Fifth Circuit declared them legal again, the store tried to retrieve their inventory. Unfortunately, there were no fleshlights, blow-up sheep, or sparkle plugs to pick up, as all the merchandise has gone "missing" from the property room. Perhaps all would-be fake porn inspectors should just become actual cops.
One Reason To Call 911

: Emergency! Please send the police! My 8-year-old child won't stop watching porn!
Labels: fake pediatric hernia inspectors, fleshlight, police, porn, red dodge neon, sparkle plugs
--Junichi