MISCARRIAGE OF JUSTICE - JUNE EDITION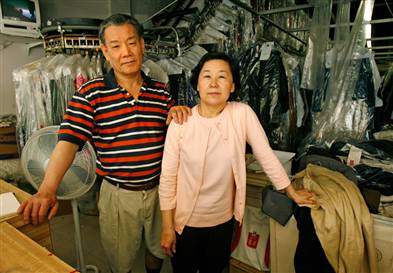 One lawsuit away from bankruptcy
Heard about Roy Pearson, the Washington, D.C. administrative law judge, who is suing his local dry cleaners for $67 million for losing his trousers? The family-run business owners -- Jin Chung, Soo Chung (see above), and their son, Ki Chung -- offered $12,000 (!) to settle the case, but Judge Pearson, the judicial branch's royal douchebag, refused anything short of $67 million. Despite nationwide mockery, Pearson insists on going to court, only lowering his damages estimate to $54 million. The trial begins tomorrow, as the Chungs slowly lose their life savings to defend themselves against these frivolous charges. Support the Chungs by contributing to the Custom Cleaners Defense Fund.

(With thanks to

AngryAsianMan

.)
The U.S. military needs -- and has long needed -- Arabic translators. Badly. Important messages went untranslated on Sept. 10, 2001 that might have prevented the attacks on Sept. 11. But in compliance with our indefensible national don't-ask-don't-tell policy, our military has now discharged over 58 badly-needed Arabic-speaking translators simply because of their sexual orientation. Stephen Benjamin is one of them; he wrote an op-ed for the NYTimes that should be igniting massive protests in Washington, D.C. Apparently, our country's homophobia trumps our need for national security.
In brighter legal news:
Remember Genarlow Wilson, who was sentenced to a decade in prison for receiving consensual oral sex from a female 15-year-old high school sophomore while he was a 17-year-old senior? A Georgia state judge has finally voided the sentence against him and removed him from sexual predator status. Let's hope the state AG doesn't appeal.

Update:

the state AG appealed and Genarlow is still in prison.

(Hat tip to J. Lo.)
Also, in a victory for those who believe in enforcing the U.S. Constitution, the conservative Fourth Circuit Court of Appeals just ruled that the Bush administration can't detain an immigrant labeled an "enemy combatant" without charging him. The panel held that the Military Commissions Act doesn't strip Ali al-Marri -- who has been held in solitary confindement in a Navy brig for four years -- of his constitutional rights to challenge his accusers in court.


--Junichi