BOLD ACTS OF SELF-INCRIMINATION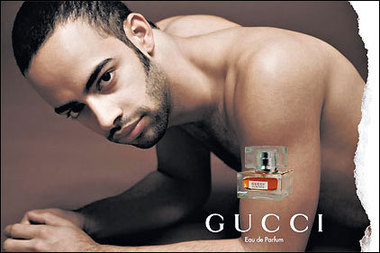 Colognes and Big Stones
I don't know who this naked man above is, but I am in awe of the size of his manberries.
Homie, who goes by the aliases Watson and Casilla, snapped a photo of himself and used it to create
a fake two-page Gucci ad
. He then called up a major Swiss weekly publication for advertising space, posing as a public-relations representative for Gucci, and asked that the $49,100 bill be sent to Gucci.
The fake ad was published and this man is now a famous Gucci model.
Brilliant.
The only problem, of course, is that he's under investigation for fraud and the police know exactly what he looks like.
I can't really fault the publication for running the ad. It is quite convincing and certainly looks as real as Gucci's latest ad campaign, seen below: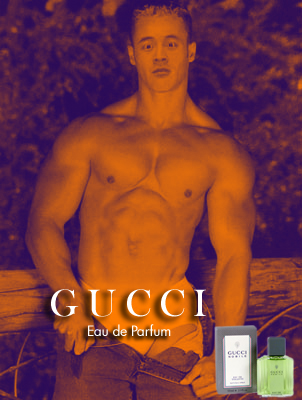 (Hattip: Adfreak.com)
*
In other self-incriminating news, today's
LA Times
includes this photo of a high school student tagging a bus:
Here's some free legal advice to all the taggers out there:
Don't tag a bus with a half dozen witnesses behind you.
Don't tag a bus when the Mayor of Los Angeles is on the bus, staring right at you.
Don't tag a bus when the Mayor has invited an army of reporters on board the bus to document his campaign to clean up the neighborhood.
Don't tag a bus when multiple camera and video camera lenses are aimed right at you.
Don't tag a bus when the principal of the adjacent school, which you attend, can immediately identify you based on the picture of you in the LA Times.

Labels: fraud, legal advice, tagging
--Junichi