MISS LANDMINE ANGOLA 2008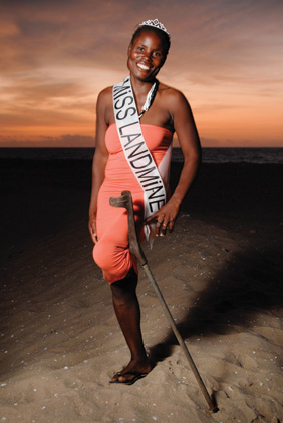 Mariana Lucas, Miss Huambo
I'm not big on beauty contests, but I have to admit that the
Miss Landmine
project is a beautiful idea.
After visiting Angola, Norwegian artist Morten Traavik observed that African disabled women were looked down upon and isolated, not to mention perceived as helpless victims by the international community. So Traavik sought funding to create a yearly pageant of landmine survivors in Angola, where beauty contests are apparently a tradition. The winner receives a leg prothesis from Norway's leading orthopedic clinic.
Sadly, there is no shortage of potential contestants, since twenty three years of civil war has resulted in over 80,000 people in Angola affected by landmines.
Not surprisingly, the pageant has run into a lot of controversy and opposition, with some critics dismissing this as western exploitation and 'mutilation pornography.' According to the website's
press materials
, the Angolan government and other NGOs are supporting the project, but some of the 'white' NGOs are refusing to do the same.
I admit my initial discomfort about this idea. Anything that involves parading women in bathing suits sounds exploitative to me. I was sold, however, when I read about how it has changed the participants' lives and how the project has fueled an international effort to establish a national female landmine survivor's network through community-based rehabilitation.
Each of the pageant candidates represents her own province by disseminating information to other similarly-situated women and coordinating assistance.
Plus, by letting the world
vote
and getting people to the site, the pageant spreads awareness of the landmine-related issues affecting over 2 million people today. So necessary.
Labels: Miss Landmine
--Junichi