WINNIE THE POOH MIGHT WANT TO ATTEND YOUR FUNERAL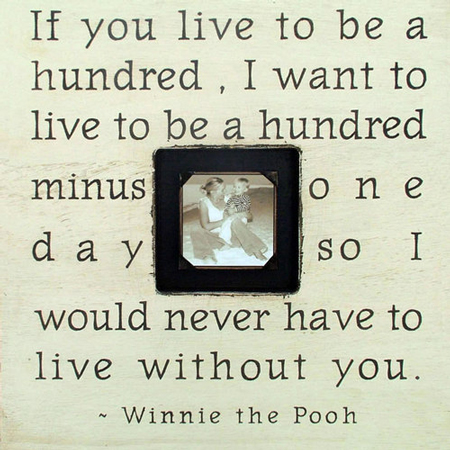 My understanding was that there would be no math.
I've seen the above frame many times. It features a sweet, sentimental Winnie the Pooh quote -- "If you live to be a hundred, I want to live to be a hundred minus one day so I would never have to live without you." - and includes a sample picture of a mother and child.
Just today, however, my wife pointed out a serious flaw in the quote that will ensure I never see this frame the same way.
The Pooh quote is only sweet if the two people are born on the exact same day.
Thus, the sample picture in the frame is totally inappropriate. If the toddler in the picture were to say that quote to his mother and it became true, he would live to see his mother die and then survive off his inheritance for at least another decade.
The only appropriate picture would be one of twins.
Here's a more specific example. Imagine Demi Moore will live to be 100 years old and Ashton Kutcher wishes to live to be a 100 minus one day. Ashton, who is 16 years younger than Demi, will see his wife die when he's 84 years old and then live a lonely existence for another 16 years.
That is, unless Demi can inhabit Whoopi Goldberg's body after being murdered and dance to "Unchained Melody" one last time. And that's ignoring the inevitable reality that Ashton, being a vain Hollywood celebrity, will inevitably dump Demi in three years during sweeps week of
Punk'd: 2012 Edition
when she becomes eligible to join AARP.
In conclusion, for this frame to have universal appeal, it should say "I Want To Die Before You."
And thus concludes the story of why I'm not in marketing.
Labels: Ashton Kutcher, Demi Moore, Funerals, Math, Winnie the Pooh
--Junichi