WE ARE THE ONES WE HAVE BEEN WAITING FOR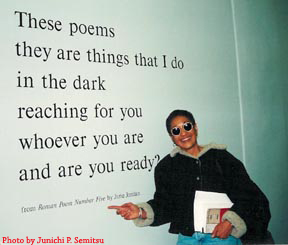 June Jordan
The
manufactured controversy
about Barack Obama's use of the phrase "We Are The Ones We Have Been Waiting For" is so inane and absurd that I hate myself for even bringing it up.
The Clinton campaign, desperate to start any controversy to reverse Obama's momentum, has
accused
Obama of plagiarizing Governor Deval Patrick.
Others have pointed out that the line actually comes from either a 2006 Alice Walker book of the same name or a classic Sweet Honey in the Rock song.
But both Alice Walker and Sweet Honey clearly credit the origin of the line to a poem by June Jordan -- "Poem for South African Women" -- that was published in 1980.
An excerpt:
And who will join this standing up
and the ones who stood without sweet company
will sing and sing
back into the mountains and
if necessary
even under the sea:

we are the ones we have been waiting for.
You can read the entire poem
here
.
A few others have suggested that the line comes from Hopi elders, but, thus far, there is no proof that the line was ever in print before 1980.
Regardless, Clinton aides, if you're going to accuse Obama of plagiarism because you don't have any better attack, get your facts straight.
Labels: 2008 presidential election, June Jordan
--Junichi