TEN THINGS I LEARNED FROM WATCHING "300"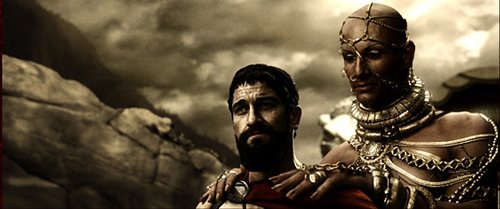 Do you like gladiator films?
Last night, I watched a gay erotica film titled
300
.
I doubt anybody has seen this comic parody of gladiator films since it's clearly a low-budget indie filmed in front of painted backdrops borrowed from a local high school production of
Hamlet
.
While I don't normally fall in the small niche of moviegoers who enjoy campy tales of men in leather nut-huggers, I decided to watch it because I knew the film would be a solid two hours worth of ideas for future Halloween costumes. Also, I wanted to support my cousin, who is in the movie. My cousin, by the way, is a giant 100-foot tall rhinoceros.
Immediately after I walked out of this
historical
hysterical epic, I prepared this list of ...
Top Ten Things I Learned From Watching

300
The Spartans were pioneers in laser hair removal and monosyllabic monologues.


Persian corpses make great cinderblocks.


Hunchbacks signal their traitorous activities by wearing Mickey Mouse's magician hat from

Fantasia

.


Oracles, the antecedents of the cast from Cirque du Soleil's

Zumanity

, have bullet-like nipples.


A Greek soldier must always bid his wife and kid adieu in a field of wheat.



Persians may look Nigerian, Chinese, South Asian, Arab, Russian, Italian, Mongolian, goat-like, or ninja-ish.


In ancient Greece, everything was the color of rust (except for the capes).



The Persians worshiped Xerxes, the God of Xerox, a sadomasochistic body-piercing tranny with an expensive manicurist.


While a chest plate might be very effective in protecting one's body from being pierced with arrows or spears, it also has the distinct disadvantage of hiding one's eight-pack abs.


As someone who believes that "freedom isn't free, but must be won" and sends troops to battle without the support of the legislature, George W. Bush would have been a very popular Spartan king.

Did I miss anything?
Labels: 300
--Junichi