ONE REASON I'M HAPPY WE'RE EXPECTING A BOY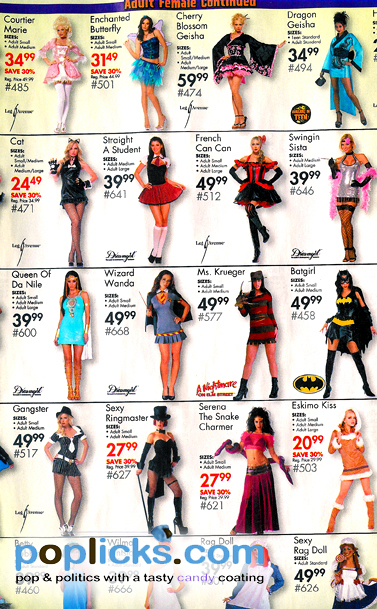 Best Little Horrorhouse in Texas
So my wife and I just learned that we are having a baby boy. We are thrilled, not that we were rooting for a particular gender.
When we returned from the doctor's office, I pulled a Party City catalog for Halloween costumes from our mailbox. A few seconds after skimming through it, I became quite glad that we're not having a girl.
I know
I've said this before
-- and it's hardly a novel thought -- but why do all female costumes have to be "sexy"? It's as if Halloween has become a giant Pimps & Hos party, except that men don't have to dress like pimps.
One can hardly distinguish the catalog above from a website to order stripper-grams. And by one, I mean somebody who has visited a stripper-gram website, which does not include me.
Also, check out the costumes on the upper right corner in the image above. What, exactly, is a Dragon Geisha? Or a Cherry Blossom Geisha? Who consulted on those cultural designs? Why not a Teriyaki Geisha? The Cherry Blossom Geisha looks like a server at El Torito who also participates in the restaurant's mariachi birthday dance.
And since when does a Straight A Student wear skirts that only go down to her hip bones? Okay, other than on the late night film selection on the Skinemax channel?
Finally, check out the costumes below. They even sexed up "Miss Dorothy" from the
Wizard of Oz
so that she looks ready to ease on down the Yellow Trick Road.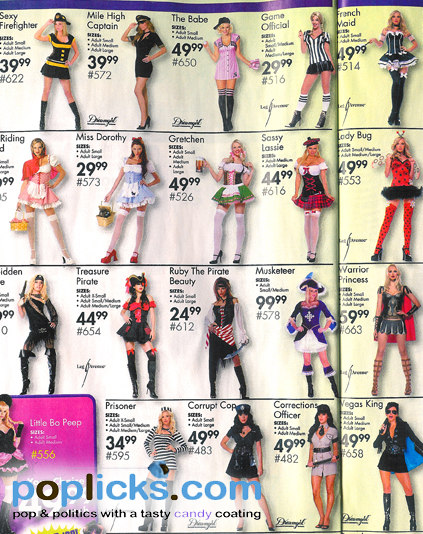 Do I sound like a grandpa yet?
Labels: Halloween
--Junichi