SEXY HALLOWEEN COSTUMES ... FOR CHILDREN?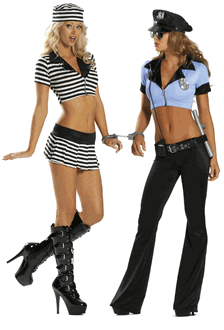 Trick or treat?
We all know that Halloween has become an annual event during which women are encouraged to just dress "sexy" for the occasion.
In my mind, at some point during the mid-1990s, a few confused ladies took the classic French Maid costume or the Catwoman costume as a signal that they could simply show up scantily clad to a party and be "in costume." None of the straight men complained. And now, Halloween is officially an Exotic Erotic holiday for adults.
This point was best made when
The Onion
published the following: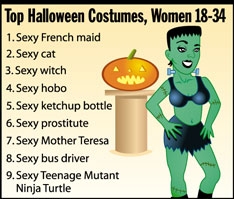 Well, it was only a matter of time before little girls started following suit.
I found the following costume at
halloweenmart.com
:
Yikes, right?
Or am I just the prudish Puritan in the neighborhood whose house is destined to be egged and toilet papered by little girls to whom I refused to give candy because they looked like prostitutes and strippers?
--Junichi