WHEN PUPPY LOVE GOES TOO FAR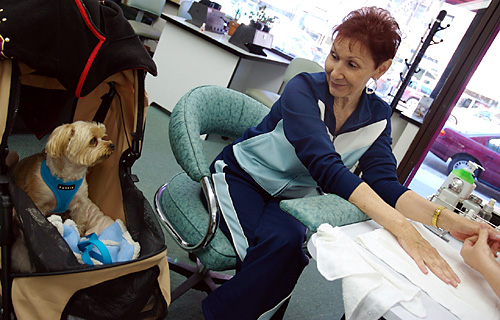 Yes, that dog is in a stroller. And yes, that dog is wearing a thong.
By way of disclaimer, let me just say that I love animals.
In theory, I believe they should be protected from torture or abuse because they have a full range of human emotions. In reality, I make an exception for those creatures that are delicious, in which case I convince myself that God has substituted out their feelings and replaced them with comatose nerve endings used to make nuggets.
Thus, I am a vegi-curious non-practicing ethical vegetarian that avoids meat by any means necessary, only making a small exception for chicken, beef, turkey, fish, duck, rabbit, ostrich, lamb, quail, pheasant, and the rodents used to make Taco Bell's delicious Crunchwrap Supremes.
But in all seriousness, I do believe that all living creatures deserve respect. I just don't think we have a duty to work towards the complete protection of every animal until
after
ensuring that every human being on this planet enjoys every rights guaranteed by the United Nation's
Universal Declaration of Human Rights
.
My mixed feelings have been especially tested with the latest ways in which pet owners are pampering their "companions."
Cosmetic surgery for animals
comes to mind. I also am unconvinced that neutered pets need
Neuticles
in order to combat their alleged depression onset by genital mutilation.
But here's where I draw the line: animal strollers.
Apparently, customized puppy strollers are
all the rage
. But all that rage is now inside me and I seem to have an irrational response anytime I see an animal stroller.
So let me warn you now. If I see you walking your dog in a stroller, I will say one of the following things to you:
Congratulations! Your baby looks just like you! He has your eyes. And your breath.
Do you also pre-chew your dog's food for him?
I'm so sorry that you have no friends.
Since your stroller already smells like Pomeranian feces, may I vomit inside there?
Wow, that is one lazy b!tch.

Excuse me, do you have a letter opener I can borrow so I can repeatedly stab my cranium until I bleed to death?
Labels: animal rights, puppy strollers
--Junichi