MONDAY ROUND-UP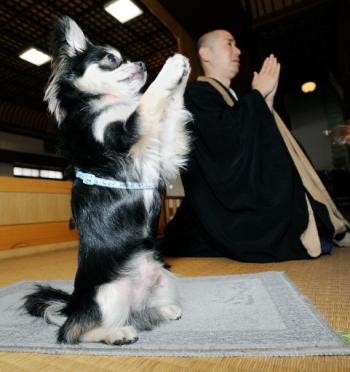 Conan the Buddhist Chihuahua
A linkapalooza to help you start your week:
SENIOR CITIZENS GONE EVIL

:

This CNN story has further destroyed my faith in the goodness of humanity: Two elderly women aided and befriended two homeless men, took out life insurance policies on their lives, drugged them, killed them with a car, and tried to collect on the insurance after making it look like a hit-and-run. In other news, I'm not above executing female senior citizens.
THERE'S SOMETHING ABOUT AMERICAN AIRLINES

:

Speaking of being unable to sleep, a woman has sued American for failing to protect her from a passenger who moved into the empty seat next to her and -- wait for it -- diddle whacked into her hair while she was sleeping. What was that man thinking? Couldn't he have waited until he landed and walked into the nearest Target department store?
JAPANESE DOG LEARNS TO PRAY IN BUDDHIST TEMPLE

:

That sounds like a pretty sweet pet trick until you realize Conan the Chihuahua (see picture above) is goofing on Buddhists just to score some dried fish-flavored Scooby Snacks. Up next: training the dog to achieve nirvana through meditation instead of the shameless lickery of his groin.
ATTACK OF THE NATIONAL CORNDOG DAY: That's a strange ad, right? I love me some c-dogs, but I'm not sure I enjoy the image of a fleet of torpedo bombers conducting a protracted aerial assault on urban basketball courts with giant corn dogs.
THE FUTURE OF HIP HOP HAS ARRIVED

: For those who haven't seen this video, please enjoy ...
Labels: 2008 presidential election, Flea Market Montgomery, John McCain, National Corndog Day
--Junichi