WHEN OVERT RACISM IS REFRESHING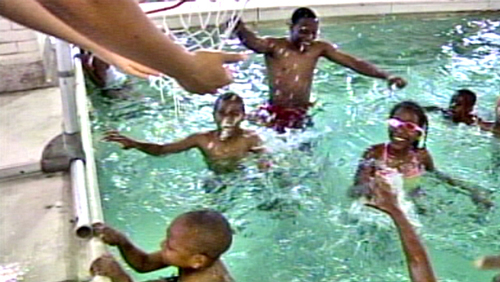 When George Wallace becomes the lifeguard
Would you rather live in:
(1) a society in which all racism is transparent, blatant, and in your face; or
(2) a society with as much racism as the one above but where the prejudice is largely veiled, subtle, and repackaged as something less insidious?
Put another way, would you rather have the KKK wearing white hoods or three-piece suits? (Note to self: we need to reference Ice Cube more often around here.)
In my head, I debate this question all the time.
On the one hand, option #2 seems like a far more pleasant place to live, as it erases the visible signs of hatred. One can claim to live in a post-racial society and believe, albeit falsely, in the hope of equal opportunity.
On the other hand, with option #1, you know where you stand with everyone and vice versa. No need to wonder if your prospective employer, father-in-law, landlord, or teacher is a bigot. If he is, he'll hurl racial epithets at you or burn crosses in order to leave no ambiguity.
This all brings me to this emerging story:
As you may have heard, the Creative Steps Day Camp paid $1950 to The Valley Swim Club, a private swim club in Northeast Philly, to use their pool. The Valley Swim Club is a private club that advertises open membership.
But the seemingly all-white club ejected the kids from the day camp when the club's pool became inundated with dozens of Black and Chicano children.
News segment with more info below:
Now, here's the kicker.
In explaining why the club ejecting the kids from the camp, John Duesler, President of The Valley Swim Club,
said
,
"There was concern that a lot of kids would change the complexion ... and the atmosphere of the club."
Did you get that? The black and brown kids would "change the complexion" of the club.
His honesty is as refreshing as a swimming pool on a hot summer day!
So while I still can't answer the question I posed at the beginning of this post, I can say that one thing I like about option #1 is that it's a world where the discriminated will have a much easier time winning lawsuits!
Labels: race, random Ice Cube references
--Junichi