WHY CHARLIE RANGEL GETS A FREE PASS FROM ME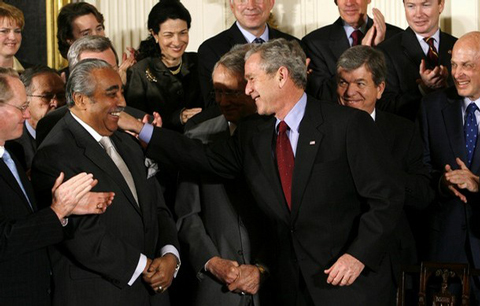 Bull Connor brushes the dirt off Rangel's shoulder
Congressman Charlie Rangel is in hot water for
saying
"You got to be kind to the disabled" after being asked why Democrats seem to fear Governor Palin.
He later said he meant to say "disadvantaged" and not "disabled."
Republicans claim to be outraged.
Admittedly, it was a poor choice of words.
But if you ask me, Charlie Rangel deserves a free pass. In fact, he can fumble all the words he wants.
Why? Because he is the author of the best quote in the history of modern sound bites.
Back in 2005, when Rep. Rangel was asked about what he thought of President Bush, he
replied
:

"If there's one thing that George Bush has done that we should never forget, it's that for us and for our children, he has shattered the myth of white supremacy once and for all."
Best. Quote. Ever.

(Hattip to Games of Berkeley)
Labels: best quotes, Charlie Rangel, George W. Bush, white supremacy
--Junichi