EUROPEANS ARE STEALING OUR JOBS (AND OTHER POST-OSCAR COMMENTARY)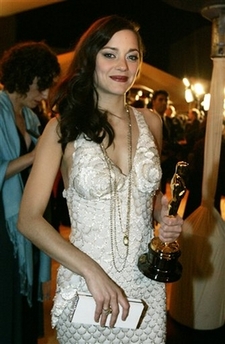 Not an American
Europeans are stealing our
acting
jobs, that is. All of tonight's acting prizes went to our frenemies across the pond:
Javier Bardem from Spain
Tilda Swinton from the UK
Marion Cotillard from France
Daniel Day-Lewis from Ireland and the UK
I say it's time to build a giant fence along the East Coast.
*

In other Oscar news, how ironic is it that U.S. soldiers, who are not allowed to be openly gay, just presented an Oscar for Best Documentary Short Subject to a film about a struggling lesbian couple?
(Was 'ironic' the wrong word to use in the previous sentence? Alanis really messed up my ability to use that word. Whenever I get a death row pardon two minutes too late, I say it's 'ironic,' even though the correct word is probably 'infuriating.')
*

Now that Diablo Cody won an Oscar, I would like to finally express my utter disdain for the script for
Juno
.
I love Diablo's personal story, the film's amazing cast, and about two of Michael Cera's lines. And I hate to attack a young, up-and-coming female indie writer who is finally offering Hollywood a fresh female lead character.
But seriously, the first half of
Juno
was unbearable to the point where I wanted to barflee (barf and flee). The last time I even considered walking out on a movie was last millennium when I paid $8 to see
Starship Troopers
. In my opinion, the Academy just gave an Oscar to utterly unlistenable dialogue and a preposterous story line. I know millions disagree with me. But you all are blinded by either media hype or a cool hamburger phone.
Moreover, how the Academy overlooked the amazing script that was
Michael Clayton
is beyond me.
*

Did Regis just say Xavier (pronouned: eggs-AY-vee-ur) Bardem?
*

Marion Cotillard absolutely deserved to win, but Julie Christie was truly stunning in
Away From Her
. Both of those performances will probably haunt me for years to come.
*

Unfortunately, I smelled what the Rock was presenting. (How in the world does the Academy justify his presence?)
*

I enjoyed
No Country for Old Men
and
There Will Be Blood
. I'm glad they were recognized. But of all the 2007 movies about greed, crime, and moral depravity, I strongly prefer
Before The Devil Knows Your Dead
, which was criminally overlooked.
How is there any justice in the world when
Norbit
is an Oscar-nominated film and Sidney Lumet's
Before The Devil Knows Your Dead
isn't? For shame.
Labels: Academy Awards
--Junichi