FRIDAY FEEDBACK: WING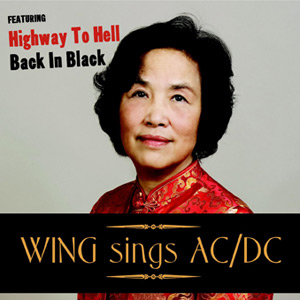 On a Wing and a prayer
This week's Friday Feedback track is:

The executive board at Poplicks is ashamed to admit that we consistently neglect Asian New Zealander soprano vocalists, especially ones who could pass as both Oliver's and Junichi's mother. But that era is over as we spotlight Wing, a successful superstar who gained her audience by first
singing in nursing homes
in Auckland.
Like Isaac Hayes, Macy Gray, and Janis Joplin, Wing Han Tsang has an undeniably singular voice, instantly recognizable to her fans. Her offbeat phrasing and unpredictable vibrato recalls James Brown, Aretha Franklin, and other vocalists who changed the history of music.
On this song, she adopts keyboard minimalism and a Beck-like retro Casio percussion feel to put her own spin on this classic AC/DC anthem. Pay attention at the 3:30 mark as she repeatedly riffs on "Yeaaah!" over a keytar solo. Who knew anyone could out-rock Brian Johnson?
Sadly, I'm still on suicide watch because I missed
her American debut
at Cafe DuNord in San Francisco back in August 2007.
But on the bright side, you can download this song in
iTunes
.
Leave your Wing praise in the comments.
Labels: Friday Feedback
--Junichi