FRIDAY FEEDBACK: EDITORS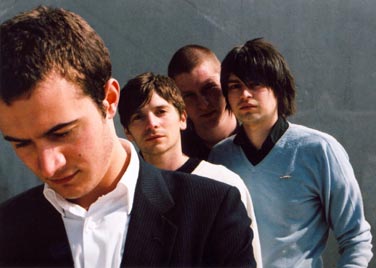 This band is not happy about doing photo shoots
This week's Friday Feedback track is:

What kind of a band begins a song with the lyrics:
"Pull the blindfold down / So your eyes can't see / Now run as fast as you can / Through this field of trees"
? A band that wants you to die, that's who.
And what band would have a hook that goes:
"The saddest thing that I'd ever seen / Were smokers outside the hospital doors"
? Obviously, a band that has never seen a puppy flattened by a steamroller while trying to save its best friend, Fluffy, a kitten that was intrigued by a ball of yarn thrown into the street by a little girl whose dying wish was to watch her two favorite pets play in a world without steamrollers.
And for the sake of Allah, what band names themselves after a group of employees only slight more enjoyable than anesthesiologists, meter maids, and repo men?
Regardless, Editors -- a British band that sounds like the love child of Arcade Fire, Joy Division, and J.J. Fad if J.J. Fad were not involved in the reproductive process -- has released a soaring, anthemic single that begs for multiple listens. But that's just my opinion.
What sayeth you?
Labels: Friday Feedback
--Junichi