FRIDAY FEEDBACK: COMMON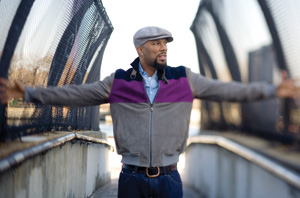 To save money on touring expenses, Common handles crowd control himself.
This week's Friday Feedback track is:
"Drivin' Me Wild" by Common feat. Lily Allen

from the new LP
Finding Forever
Kanye West paired up Common and Lily Allen to produce this track that seems to reference everything from the crazy astronaut with diapers, OK Go's "Here I Go Again" video, and the breakup of Reese Witherspoon and Ryan Philippe.
What do you think? Would you have preferred that the hook be sung by a different British chanteuse
with three nipples
? Are you still unable to forgive Common for
Electric Circus
and the Gap commercials?
Leave your comments below.
Labels: Friday Feedback
--Junichi