FRIDAY FEEDBACK: R. KELLY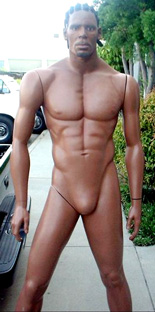 Double Up
with R. Kelly
Starting today, I'm going to post a new song here every Friday to solicit Poplicks readers' commentary and help get your weekend started.
I'm not necessarily endorsing whichever track I choose. In fact, I'll minimize my commentary so as not to taint your opinion.
The inaugural Friday Feedback track is:
"The Zoo" by R. Kelly
from his new album,
Double Up
.
What do you think? Did you enjoy Kels's chimpanzee noises,
Jurassic Park
references, and avant-garde bongo-playing techniques? How does this latest slow jam compare to the genius that is
"In The Kitchen"
?
Leave your comments below.
Labels: Friday Feedback, R. Kelly
--Junichi