BUSH FORCES POOR TO TRANSFER MONEY TO THE WALTON FAMILY CUZ GOD KNOWS THEY NEED IT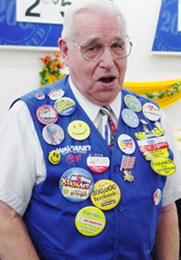 I do want to express myself and I need 37 pieces of flare to do it.
Shocking statistics from the latest column of
Matt Taibbi
(who received the tip from Senator Sanders' office):
Not only does [the Bush budget] make many of Bush's tax cuts permanent, but it envisions a complete repeal of the Estate Tax, which mainly affects only those who are in the top two-tenths of the top one percent of the richest people in this country. The proposed savings from the cuts over the next decade are about $442 billion, or just slightly less than the amount of the annual defense budget (minus Iraq war expenses). But what's interesting about these cuts are how Bush plans to pay for them. ...



If the Estate Tax were to be repealed completely, the estimated savings to just one family -- the Walton family, the heirs to the Wal-Mart fortune -- would be about $32.7 billion dollars over the next ten years.





The proposed reductions to Medicaid over the same time frame? $28 billion.



Or how about this: if the Estate Tax goes, the heirs to the Mars candy corporation -- some of the world's evilest scumbags, incidentally, routinely ripped by human rights organizations for trafficking in child labor to work cocoa farms in places like Cote D'Ivoire -- if the estate tax goes, those assholes will receive about $11.7 billion in tax breaks. That's more than three times the amount Bush wants to cut from the VA budget ($3.4 billion) over the same time period.
Why are we not rioting again?
Labels: class war, justifications for impeaching Bush, Wal-Mart
--Junichi