RUNNING WHILE BROWN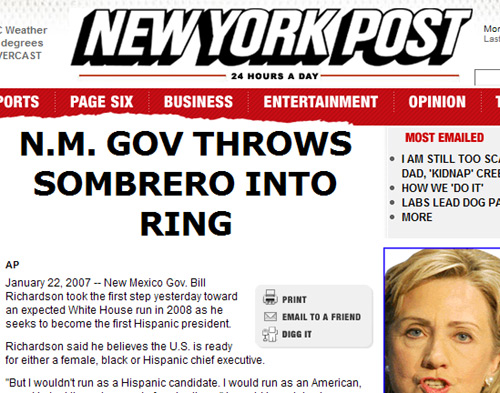 Richardson is Running ... for the Border
Yup, that's an actual screen capture above.
When Oliver decides to run for office, I can't wait until the New York Post prints the headline:

WANG THROWS CHINAMAN'S HAT INTO THE RING
*


Just as Obama and Clinton are forced to field idiotic questions and analysis of their race and gender, respectively, Governor Richardson will inevitably weather acerebral comments about his Mexican heritage and the fact that he grew up in Mexico City.
I feel bad for Richardson ... until I remind myself that he is the one
directly
responsible for the racial profiling and incarceration of Los Alamos scientist
Wen Ho Lee
.
Source: Wonkette
--Junichi