WHEN PERSONAL ADS BECOME POETRY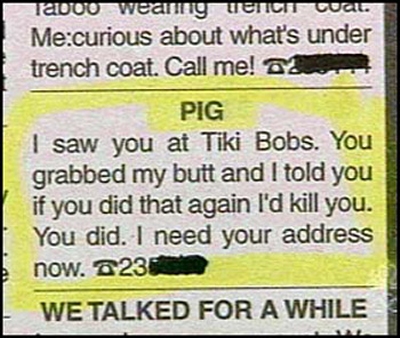 I read a collection of personal ads in Sunday's
LA Times Magazine
that I assumed was the brainchild of a creative genius.
On second read, I realized that the ads were real personals pulled from various sources spanning several years. (I confirmed that a few were from Craigslist.)
Here are some of the more delicious ones:
Liberal man seeks a conservative (neocon or better) woman for discreet affair. You blast Sean Hannity while dominating me in the back of my Prius. Weekdays only.



Young man, moderate circumstances, with glass eye, would like to make acquaintance of young girl, also with glass eye or other deformity not more severe, for matrimony.



Portly screen legend, reclusive, with unabashed Japanese fetish wishes to turn over new leaf and find a nice Chinese girl to spend remaining days with.



My name is Bubbles. I reside in a shed with 28 kitties. I refurbish grocery carts, which I steal from the local Wal-Mart. Just kidding. I'm Tom. I'm looking for local female for coffee and maybe more.



Broken guy with only a guitar and a Dodge Dart, looking for barely legal runaway who won't judge him for being an abject failure.



SWM cultural imperialist foodie seeks goofy hipster chick to drive to San Gabriel so we can brag about being the only white people at a filthy C-grade restaurant.



Stoner seeks same.
Too bad that I'm not a nice Chinese girl who could've helped Marlon Brando overcome his Japanese fetish.
Labels: personal ads
--Junichi