WHO'S THE ANGRY ONE NOW?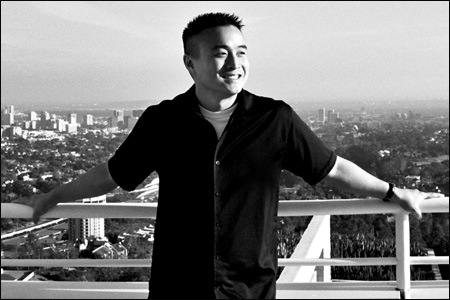 not looking so angry to me
So after excoriating Angry Asian Man for daring to designate me - the happy-go-lucky partner in Poplicks - as an Angry Reader, Junichi is the latest
Angry Dood
. (AAM claims the choice of Junichi was, by no means, a result of Junichi's ranty-rantiness. No word on whether Junichi was asked to fund-raise on behalf of AAM however).
Things we learn from Junichi's post (that we didn't already know):
*He's really, really, really close to becoming a father.
*He has beef with wedding DJs.
*He is the funniest lawyer in San Diego (is there a lot of competition for this title?)
*He harbors a deep hatred for Paris. Hilton, that is.
*He wants Counting Crows boxsets as a baby shower gift.
---
Junichi adds:
For some reason, Angry Asian Man did not use this photo, which I submitted to him and preferred:
Labels: junichi
--O.W.