WHEN STOPPING THE VIOLENCE MEANS TAKING SIDES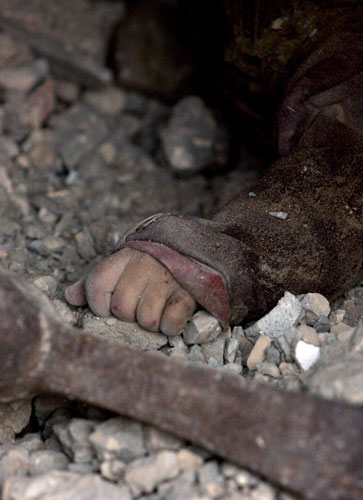 The latest casualty of war
The senseless deaths in Israel and in Gaza have been a horrifying way to end 2008 and begin 2009.
But for me, what is equally horrifying is how many people in power -- especially in the United States -- continue to take the stand that calling for a cease-fire is anti-Israeli, pro-Palestinian, or pro-terrorism.
President Bush is balls-out defending Israel's continued aggression, which is hardly a surprise, since for him to do otherwise would be to challenge the core tenet of the Bush Doctrine.
But President-elect Obama has also been painfully mum. He finally broke his silence today, only to say that he is "
deeply concerned about the conflict
." Sadly, he has yet to utter a single word that calls for calm, cooler heads, or a cease-fire.
I realize Obama isn't president yet, but his silence is costing lives.
What Obama says (or doesn't say) matters, since Israel's war will continue so long as the United States supports Israel's rejection of calls for a cease-fire.
Moreover, the US just
blocked approval
of a UN Security Council statement that calls for an immediate cease-fire. If Obama indicated today that he would discontinue Bush's blockade in two weeks, his words would have a huge impact now.
What is the political risk for Obama (or Bush), especially when almost half of all Americans are
questioning
Israel's aggression in Gaza?
Moreover, what would be the political cost to calling on Israel to
let the media into Gaza
?
I wish Bush or Obama said something similar to the statement issued by
J Street
, a Jewish group in the United States:
Israel has a special place in each of our hearts. But we recognize that neither Israelis nor Palestinians have a monopoly on right or wrong. While there is nothing "right" in raining rockets on Israeli families or dispatching suicide bombers, there is nothing "right" in punishing a million and a half already-suffering Gazans for the actions of the extremists among them.

And there is nothing to be gained from debating which injustice is greater or came first. What's needed now is immediate action to stop the violence before it spirals out of control.
J Street is urging people to sign a
petition
that calls for "immediate and strong U.S.-led diplomatic efforts to urgently reinstate a meaningful ceasefire that ends all military operations, stops the rockets aimed at Israel and lifts the blockade of Gaza. This is in the best interests of Israel, the Palestinian people and the United States."
Sounds like a harmless statement to me. It certainly isn't questioning, for example, Israel's right to exist or defend itself.
But given that other prominent members of the Jewish community have
attacked
J Street's position, there isn't much hope for the peace movement.
I still hold out a knowingly-naive hope that Barack Obama represents the kind of change necessary to help effect a lasting peace in Israel and Palestine.
But as of now, I am disappointed.
If I were the president-elect, when children and other innocent civilians are dying, I wouldn't care if the victims are Israeli or Palestinian. I wouldn't care who started it or whose attacks are retaliatory. And I wouldn't care if the inauguration were still two weeks away.
I would want the killing to stop.
But sadly, in 2009, after eight years of witnessing the epic fail that is the Bush Doctrine, those of us Americans pushing for peace are still being marginalized.
Labels: Barack Obama, Gaza, George W. Bush, Israel, Palestine
--Junichi